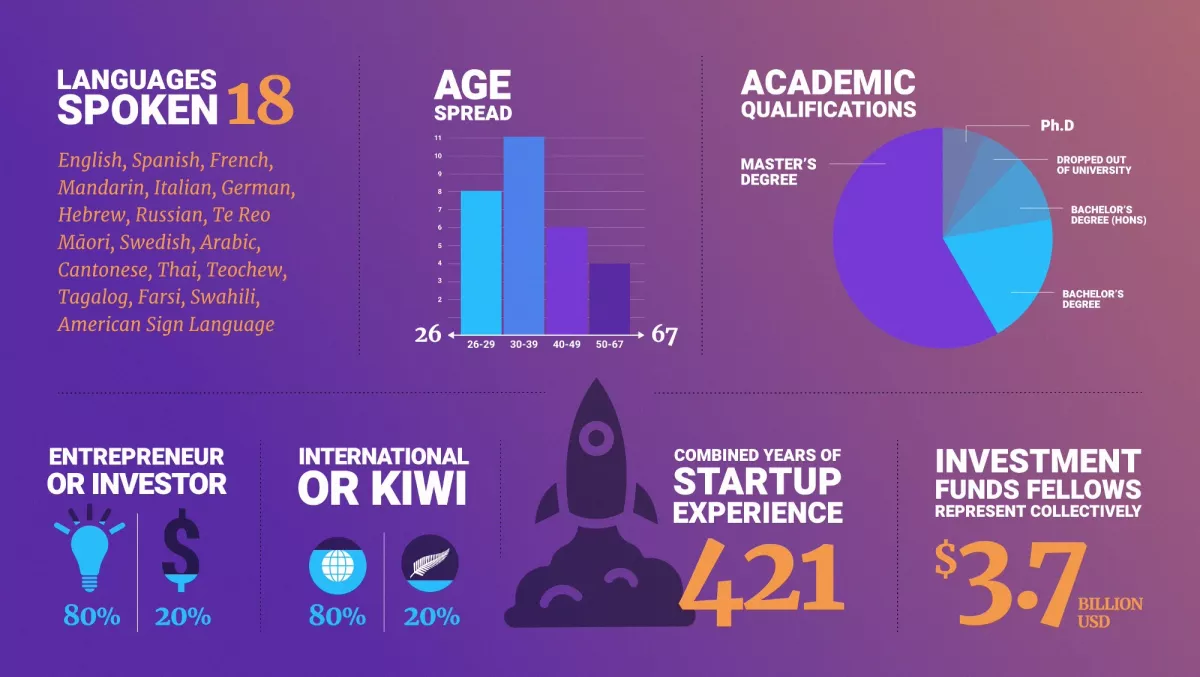 24 innovators selected to apply for entrepreneur visa through fellowship programme
FYI, this story is more than a year old
24 international Fellows and six New Zealand entrepreneurs have been selected from more than 300 innovators who applied to tackle pressing global challenges in New Zealand through the Edmund Hillary Fellowship (EHF).
The international Fellows will now apply for Global Impact Visas to take part in the programme.
The group selected by EHF are part of the first cohort in a three-year programme run in partnership with Immigration New Zealand (INZ) to provide visionary entrepreneurs and investors with a platform to create positive global impact from New Zealand.
"We were blown away by the calibre of the candidates and their potential to make a unique contribution to the New Zealand innovation community.
"This made the task of selecting Fellows very difficult for our independent selection panel," says Yoseph Ayele, EHF CEO.
The six New Zealanders are: investor and business journalist Rod Oram, Samantha Jones (Little Yellow Bird), Kaye-Maree Dunn (Making Everything Achievable), Alana Scott (A Little Bit Yummy), Anne-Marie Brook (The Human Rights Measurement Initiative) and Chris Simcock (Impact Ventures Limited).
The EHF will be introducing the 24 international Fellows on their blog in the coming weeks, a group which includes entrepreneurs who have achieved global success in building innovative ventures, and are major influencers in their respective industries.
"We are excited by the entrepreneurial capabilities and expertise such individuals will bring to New Zealand to help Kiwi companies continue to produce world-leading innovations," says Ayele.
The inaugural cohort also includes six investors, who represent funds with collective access to NZD$5 billion of venture capital, including individuals who have backed world-class entrepreneurs.
They are now looking to invest in high potential New Zealand ventures, and help connect them with world-class talent.
"Our Fellows bring significant global connections and help fill the gap that the recent Compass Start-up Genome survey, led by the Angel Association of NZ, identified as a major need for New Zealand's growth," says Ayele.
With a combined 421 years of startup experience, the first cohort of EHF Fellows have wide-ranging expertise that include scaling a company to a $500m market leading business, turning $3,000 in grants into a large-scale education centre where unemployed youth can become successful entrepreneurs in the arts, and building a mobile application that saw 100 million downloads in just a couple of years with little marketing budget.
"Our Fellows are working in incredibly exciting areas of global change, with the potential to transform the industries they are working within, create new jobs for Kiwis, and help New Zealand lead at the edge of innovation," says Ayele.
The sectors Fellows are working within include aerospace, blockchain technology, education, mental health, human rights, innovation to tackle climate change, govtech, and new media.
Ranging in age from 26 - 67, the Fellows collectively speak 18 different languages and have solid business or startup connections in 47 countries, representing new markets where they can help connect New Zealand entrepreneurs.
"The strength of EHF is in the community we are creating. We can't wait to bring together our inaugural cohort to meet each other and to introduce them to other key stakeholders in the New Zealand entrepreneurship community," says Ayele.
"We created the Edmund Hillary Fellowship to bring together humankind's creative potential and entrepreneurial spirit in New Zealand, to build innovative ventures for global impact. We think our inaugural cohort have a good chance at helping to achieve this vision.