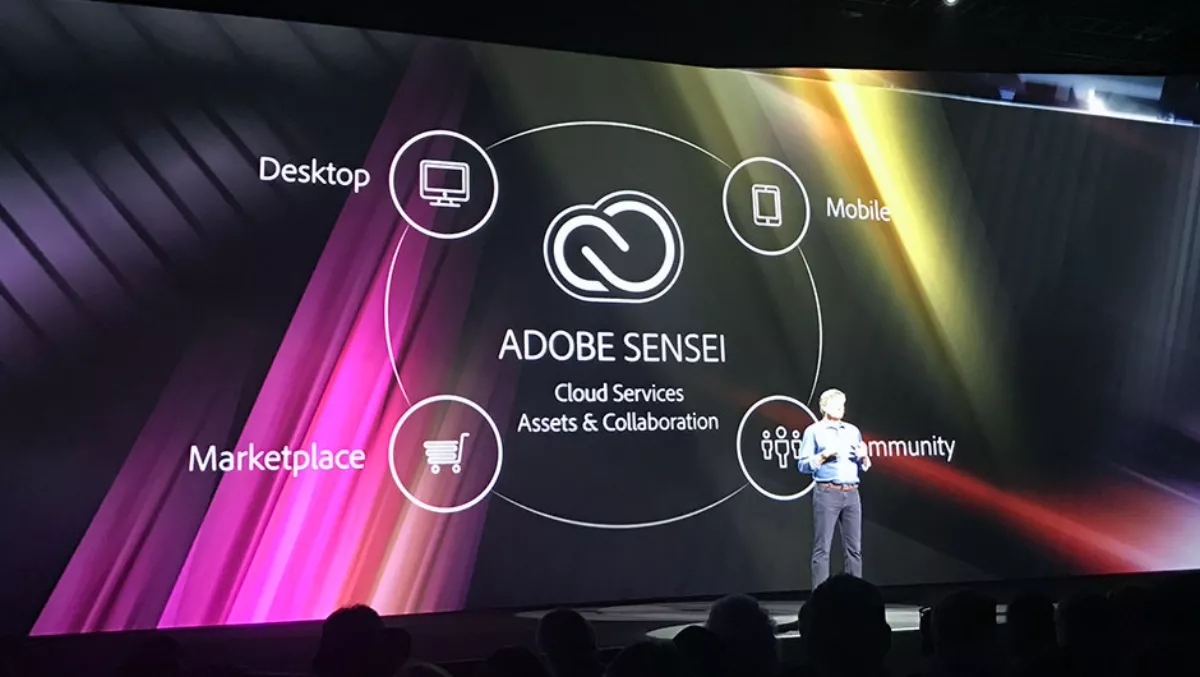 6 trends transforming the future of Adobe
FYI, this story is more than a year old
Adobe is a really interesting software company. They've spent the last few years reinventing themselves in the new age of mobility, apps and cloud.
Here are the six key trends that Adobe is taking the lead on:
1) Creation on the go
We've often been told that mobile devices like tablets and smartphones are consumption devices. Adobe doesn't agree, and they're remaking a heap of their software tools for these devices.
Not only are they making their recognised tools like Photoshop, but they're also inventing totally new tools that are mobile first. Examples are Sketch, Comp and Photoshop Fix.
These aren't just basic tools, but are rich tools with huge power and designed for touch interfaces.
They now have around 30 apps in Apple's App Store. Almost all of them are also now available for Android's Google Play store.
2) Cloud-centric
Having moved all their tools from boxed software to cloud delivery on a subscription basis, Adobe is now busy rethinking how the cloud fits into every app.
This has evolved into automatic file synchronisation between desktop and device apps almost instantly.
All future products will be cloud-centric. Each license for their key product Creative Cloud comes with the rights to use each app on two devices at a time. You can have the app's on many more devices but only use two at once.
You can read about the recently released 2017 version of Adobe's Creative Cloud here.
3) Higher expectations
Consumers are becoming more demanding. It seems that we'll pay more for something as long as it comes with a great experience. This extends from beautiful packaging design through to the user experience of an app.
The poster children of this new experience centric business trend are Uber, Airbnb and Apple.
All of this needs much much more content and design. Adobe calls this content velocity and sees it as a key that its addressable market is expanding.
4) Harnessing the community
As the apps and our content assets migrate to the cloud, it becomes much easier to share them with the wider design and creative community.
Adobe is embracing this in many ways. Its online showcase system called Behance has amassed more than eight million creative professionals.
It's also harnessing this community following by developing its new apps in the open, with public previews that can be downloaded and used before release. The feedback that comes from these previews gets collated and used to develop new features for the applications before launch or in future updates.
5) Marketplaces
Last year Adobe Stock was introduced. It allowed designers to quickly find and purchase stock photography which could be easily and quickly used in Adobe's software tools.
It's an ingenious system that can analyse images and find similar or alternative images on its own.
They've taken this a step further with this week's new 2017 release of Creative Cloud. Now Adobe Stock is incorporated directly into its tools, so you can search, license and download the imagery without leaving PhotoShop or InDesign.
This marketplace has also recently been extended to templates, 3D objects and a separate TypeKit marketplace for fonts.
As of today over 60 million assets and 6,000 fonts are on Adobe's marketplaces.
6) Machine learning
Adobe has just announced their artificial intelligence and machine learning engine, Sensei.
They have had highly advanced artificial intelligence in Photoshop for some time. It's been anecdotally known as Adobe Magic previously.
Sensei isn't a product, but a concept and collection of services that will be applied to a number of their products.
Right now it can help you analyse an image and name the fonts used in it. It can also analyse images to automatically keyword which makes searching through your assets much easier.
The most famous example is content-aware fill. Which enables you to remove something from an image, with Photoshop automatically filling in the background intelligently and seamlessly.
There are numerous artificial intelligence and machine learning features under development. Generally, they're are being created to save time and automate repetitive tasks.
These six trends are coming together to expand both the number of Adobe App's as well as its market to sell them to.
A number of these new App's are freely available, while others are included in the company's flagship Creative Cloud service.
The strategy is obviously working with 46% growth for Creative Cloud outside of the USA last year.
Related stories
Top stories