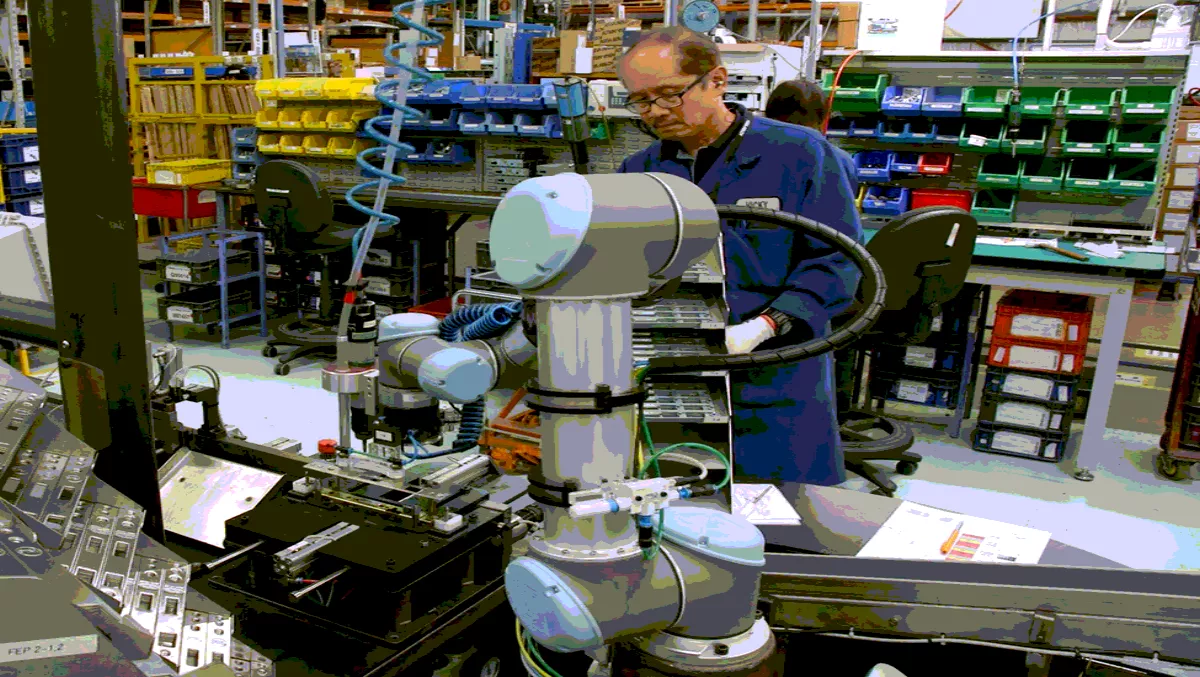 Callaghan Innovation's borrow-a-cobot scheme speeding up automation
Fri, 23rd Mar 2018
FYI, this story is more than a year old
'Victoria' is shaking things up at door and window hardware manufacturer Assa Abloy.
Victoria is a cobot – a UR5 collaborative robot able to work on 32 different product variants on the lock body line at the company's Albany facility.
She has been a game-changer, so much so that Assa Abloy is about to commission two more cobots on a different assembly line, manufacturing engineering manager Marc Simkin says.
The sleek new employee paid for herself within a year, and has created a whole new role for the person who used to do her job.
He is now the robot minder, directing her to where she's needed and placing a much greater focus on quality.
"Our experience has been absolutely fantastic," Simkin says.
Cobots are robots that work alongside their human colleagues without the need for safety guarding.
They are easier to install than traditional robots and typically have a shorter payback period.
Compared with their American, European and Asian counterparts New Zealand manufacturers have been slow to adopt cobots.
The technology is a key part of the digital revolution that is changing the face of manufacturing, and the Kiwi sector risks becoming uncompetitive if it doesn't get on board, Callaghan Innovation's business innovation adviser for manufacturing, Nathan Stantiall, says.
Cobots aren't for everyone, which is why Callaghan Innovation, the Government's business innovation agency, offers a free one-month trial of its own UR5 plus research support.
Universal Robot UR5
The borrow-a-bot scheme is how Assa Abloy came to know and love Victoria.
It held the "robot wars", pitting three different technologies against each other – a UR5 made by the Danish-based Universal Robots (UR); a cobot from Swiss industrial equipment maker ABB; and the cobot Callaghan Innovation had at the time, dubbed 'Baxter'.
Sadly for Baxter, a first generation cobot developed by US-based Rethink Robotics, the UR5 won.
But without the trial Assa Abloy would have taken much longer to evaluate its options, Simkin says.
"At that stage, we had no idea what we were going to do with the technology," Simkin says. "The whole point was a process of discovery and understanding of what is out there.
Christchurch-based Design Energy distributes UR products in New Zealand. The great advantage of cobots is that they're easy to use and extremely flexible, managing director Mike Shatford says.
"Companies can deploy them themselves, maintain them, programme them," he says.
"Because they're so simple, that can be put back into the end user's hands.
UR5 touchscreen tablet controls
Smaller firms with mixed production runs may not think they are ripe for automation, but the technology can be deployed to perform a variety of different tasks even within a single day, Shatford says.
The lower implementation costs mean the payback period is typically around six to 12 months, and putting cobots into the mix also stimulates consistency in the production process, he says.
"We've seen multiple cases where throughput gains far outweigh savings on labour," he says.
Embracing automation will be increasingly important as New Zealand seeks to lift its low productivity growth levels, Callaghan Innovation's Nathan Stantiall says.
"It's not about replacing the workforce. It's about throughput gains, upskilling your workforce to do more fulfilling and productive roles, and improvements in safety," he says.
Trialling a robot would be most beneficial to businesses that are new to robotics and have implemented lean manufacturing principles, he says.
Combining use of cobots with Callaghan Innovation's Better by Lean training programme may be a good strategy for some firms.
"We urge manufacturers to come and talk to us about giving cobots a go," Stantiall says.
Companies interested in a cobot trial can contact Callaghan Innovation.