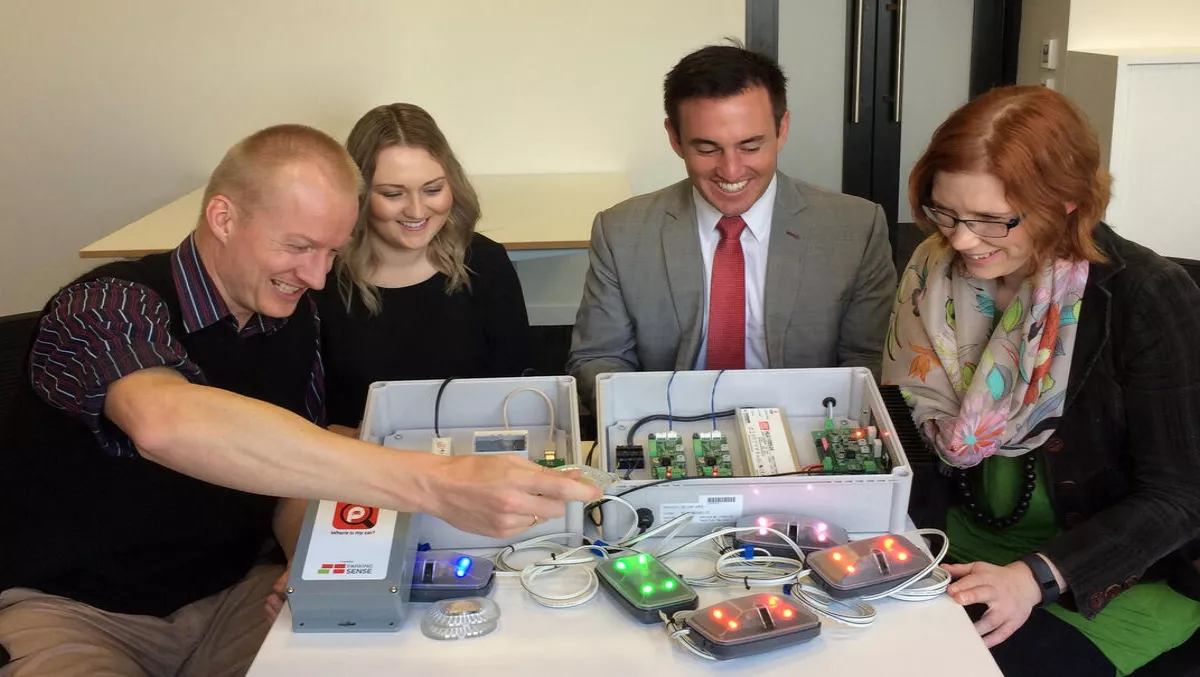 Company-X helps Kiwi parking solution deliver in the US
Thu, 24th Aug 2017
FYI, this story is more than a year old
A new Kiwi parking solution, designed and built in the Waikato, is taking the US by storm.
When Parking Sense won the largest parking guidance contract ever awarded in the United States, it asked Company-X to help it deliver.
The Cambridge inventor of parking technology turned to the Hamilton software specialist to help with the 21,000-space parking contract with the Los Angeles County Metropolitan Transportation Authority.
Together, Parking Sense and Company-X are rolling out the technology for 87 geographical sites across Los Angeles.
Other customers include CBRE Galleria Office Towers in Dallas, Texas, the University of Washington in Seattle, Washington, and the Walter Reid National Military Medical Centre in Bethesda, Maryland.
Paul Collins, Parking Sense founder and managing director began talking to Company-X directors David Hallett and Jeremy Hughes after reading how multinational Cisco Systems had praised them in the Waikato Business News.
Since then Parking Sense, named a Deloitte Fast 50 Rising Star in September, has partnered with Company-X and the two companies have worked on a trio of innovative parking products.
ParkUp Pay is Parking Sense's smartphone application that enhances and streamlines the driver's paid parking experience.
SpaceNet is a car park management system for collecting real time analytics and KPIs from parking garages.
Where is my Car is a smartphone application that helps drivers find their parked car inside a multi-storey car park building.
The end goal of all the projects that Parking Sense and Company-X are collaborating on is to bring smart technology into the outdated parking industry.​
"Company-X has the flexibility to ramp up with the depth and breadth and quality of staff when we need all hands to the pump.
"Parking Sense USA, headed by chief executive Jake Bezzant from Cambridge, was the only exhibitor at the recent International Parking Institute Conference and Expo to have a working solution to demonstrate the parking process from the beginning to the end," King says.
"Despite the time difference between the expo in New Orleans and New Zealand, they were always available for technical support.
Bezzant says, "Our appearance at the International Parking Institute Conference and Expo proves that our collaboration with Company-X enables us to be a real innovator of parking technology.
"We are thrilled to be working with another New Zealand company taking on the world.
King says the iterative approach to software development known as Agile worked well for Parking Sense, with weekly team meetings either in person at Company-X's headquarters at Wintec House, or held virtually over teleconference.
Parking Sense is not Company-X's only international client.
The Company-X team works with Cisco to design and develop highly sophisticated and specialised software for the multinational that can be scaled across the organisation of tens of thousands of staff, internationally.