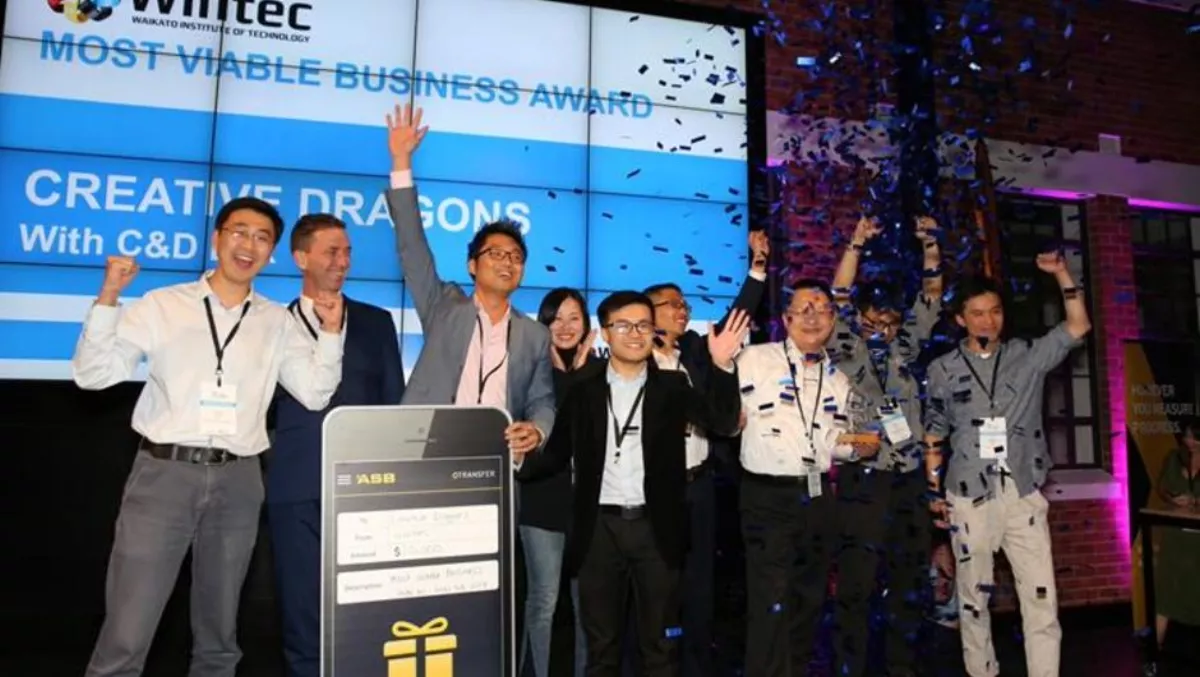 Crowd and community-driven ideas shine at Innes48 startup competition
Tue, 20th Mar 2018
FYI, this story is more than a year old
The winning team, Creative Dragons travelled from China to compete in the 48-hour business startup competition.
They wasted no time in identifying and responding to the major issues facing local convenience stores – being robbed, low margins and long hours.
Their solution, C-D Box, a cooperative concept, responded to the theme of the weekend 'better together' by putting store owners together to benefit from better security through technology, group buying and support. Creative Dragons received $10,000 from platinum sponsor Wintec.
The team included students and graduates from Wintec and the University of Waikato, graduates from Wintec's tertiary partners in China and academics from Chengdu University of Information Technology.
However, it was a local team, Brown - Down Boys, that stole the show.
This family team consisted of father and son, Ted Pogai, and son Christian-Lee Pogai (12 years old) and their family friends Livi Hirawani (15 years old), Adam Williams, Porourangi Gudgeon and Maari Renee Moke. Brown - Down Boys took out the Peoples' Choice and the Best Pitch awards with an Airbnb style concept to respond the issues New Zealand marae are facing to maintain their facilities.
Their concept, an authentic tourism experience for participating marae won the hearts of the audience and judges alike through its sharp and at times, witty delivery, combined with a great idea designed to create "win-win" partnerships. Winners of the Most Innovative Idea, team Casually Yes, developed Hook Me Up.
This business idea aims to bring the fishing community together through a web-based programme to hook anglers up with boat owners and create a more valuable fishing experience. Soda Inc chief executive Erin Wansbrough says the weekend had been a gripping journey for the fifteen teams and everyone involved was 'better together' for it. "Wowing the judges or even taking part in this 'fail fast, learn fast' competition takes a lot of passion and creativity, and demands innovation which the teams this year showed in volumes." "By expanding our thinking, we go beyond competition as competing is not the best path to success.
Challenging rather than collaborating, can lead to demise," says Wansbrough. "The theme 'better together' positively influenced the startup ideas developed by these 15 teams.
Their ideas address the issues of a modern world and respond through taking a collaborative, community approach," she says. Judge Roanne Parker announced the six teams that had successfully made it through to the final.
She expressed on behalf of the judges that they were impressed with the calibre of each of the business ideas, with many being world-class.
She did stress, however, for all of the teams that it is important for startups to aim higher. "In a small market like New Zealand, the long tail is pretty short, so think bigger, take opportunities, knock on doors. We're so proud of you, this experience is extraordinary and remember, 98% of entrepreneurship is aspiration." The judges for this year's competition were Roanne Parker, founder and managing director Calibrate Digital Marketing, Robert Stone, founder New Zealand The Innovation Nation, Chip Dawson, executive board Member NZ US Council and Campbell Gower, chief cook and bottle washer Phil - Teds. Judge Bob Stone gave some sage advice at the end of the night for current and future competitors to consider. "Next year, we'd like to see more women," he says.
"Think big, it's a big world and you can conquer it." The Soda Inc. Innes 48 Startup Competition was made possible with the support of Wintec, Gallagher, ASB Bank, Waikato-Tainui, LearningWorks, University of Waikato, Callaghan Innovation, Deloitte New Zealand, Fieldays, Norris Ward McKinnon, NetValue, Hamilton City Council, Chow: Hill, Good George Brewing and Loveblock Wines.