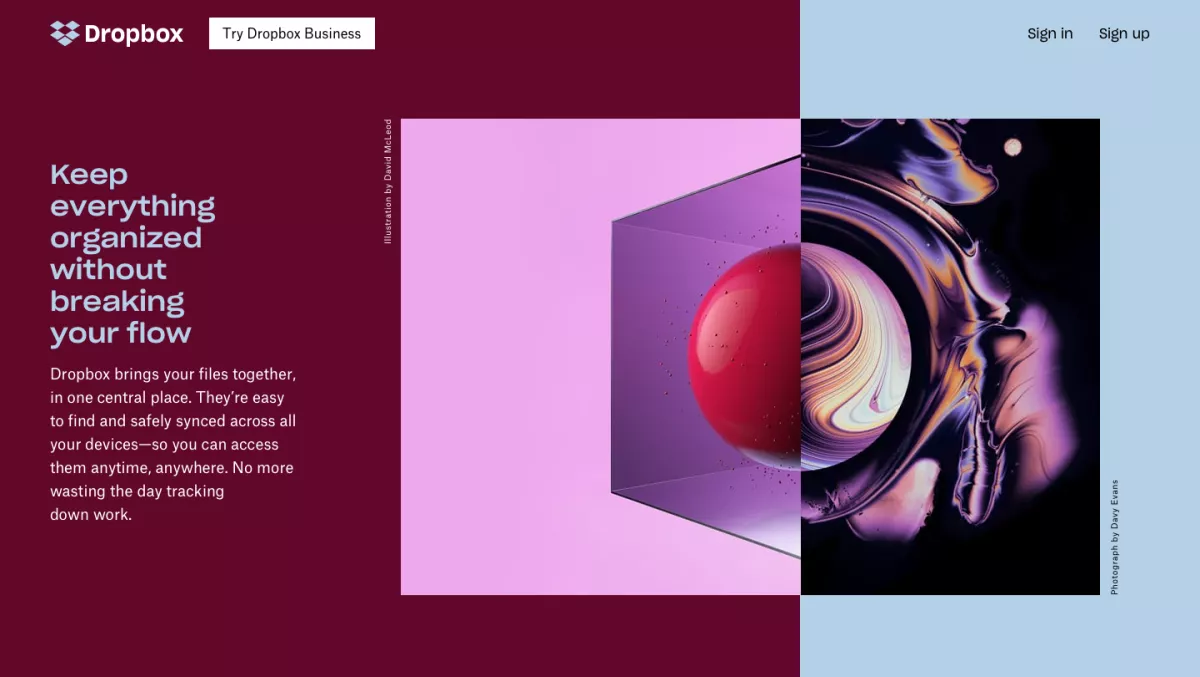 Dropbox goes all out in rebrand, positions itself as creative collaboration platform
FYI, this story is more than a year old
Dropbox has announced the biggest change to the company's brand in its 10-year history, including a colourful new look and a global brand campaign focusing on creative energy.
Gone are the clean white spaces and simple, minimalistic interface that used to represent the cloud storage platform.
The rebrand anthem, The world needs your creative energy, seems to be targeting creatives and the use of Dropbox as a collaboration platform for creative projects.
"At Dropbox, we believe creative energy is a precious resource—and the world needs it now more than ever," says Carolyn Feinstein Dropbox CMO in a blog post explaining the rebrand.
"It's not about working more: it's about focusing on the work that truly matters."
The logo change doesn't come as a huge surprise, but the new, bolder, flatter typeface and the splashes of colour over the landing page are intended to make sure you don't miss the rebrand.
It's a huge change for those who have been using Dropbox for years, to the point of it being almost unrecognisable.
Dropbox says as its mission has evolved from keeping files in sync to helping teams in sync, the new brand shows that Dropbox isn't just a place to store files, but instead a living workspace that brings teams and ideas together.
New facets of Dropbox's rebrand include:
Visual design – The new design system is built on the idea that extraordinary things happen when diverse minds come together and is communicated visually by pairing contrasting colours, type and imagery.
Typography – With 259 fonts, the new typeface Sharp Grotesk allows for versatility is intended to allow Dropbox to "speak" in a variety of tones.
The Logo - Cleaner and simpler, the new logo has evolved from a literal box to a collection of surfaces to illustrate Dropbox is an open platform and a place for creation.
Colour - The new system juxtaposes colours in bold, unexpected ways, and changes based on the situation.
Co-creation with artists – Dropbox is partnering with artists to create visual metaphors for collaboration, and these will roll out in the next few weeks and months.
Users will begin to see Dropbox's new look, from the website to products, over the next few weeks.
The company will also be sharing its story in a global ad campaign initially from the US to the UK to Australia.
While the jury is still out on how well the rebrand will be received by users, the general consensus in the Twittersphere seems to be one of wary delight interspersed with confusion.
Very confused by the Dropbox rebrand. Waiting for the punchline. https://t.co/2jGAzh5bUz pic.twitter.com/fjtmxozrcc

— ⚡️ Ben ⚡️ (@BenSteers) October 3, 2017
New Dropbox rebrand: Give us your receipts, tax docs, and boring paperwork. We'll pack them off to Coachella in a VW van.

— Erin Jo Richey (@erinjo) October 3, 2017
Bold, brave and probably a grower. Very cool illustration style though! https://t.co/j7yu4QMIZA #rebrand #Dropbox pic.twitter.com/KAQhCYj62E

— Marc Bubb (@marcbubb) October 3, 2017
Check out the rebrand video below:
Related stories
Top stories