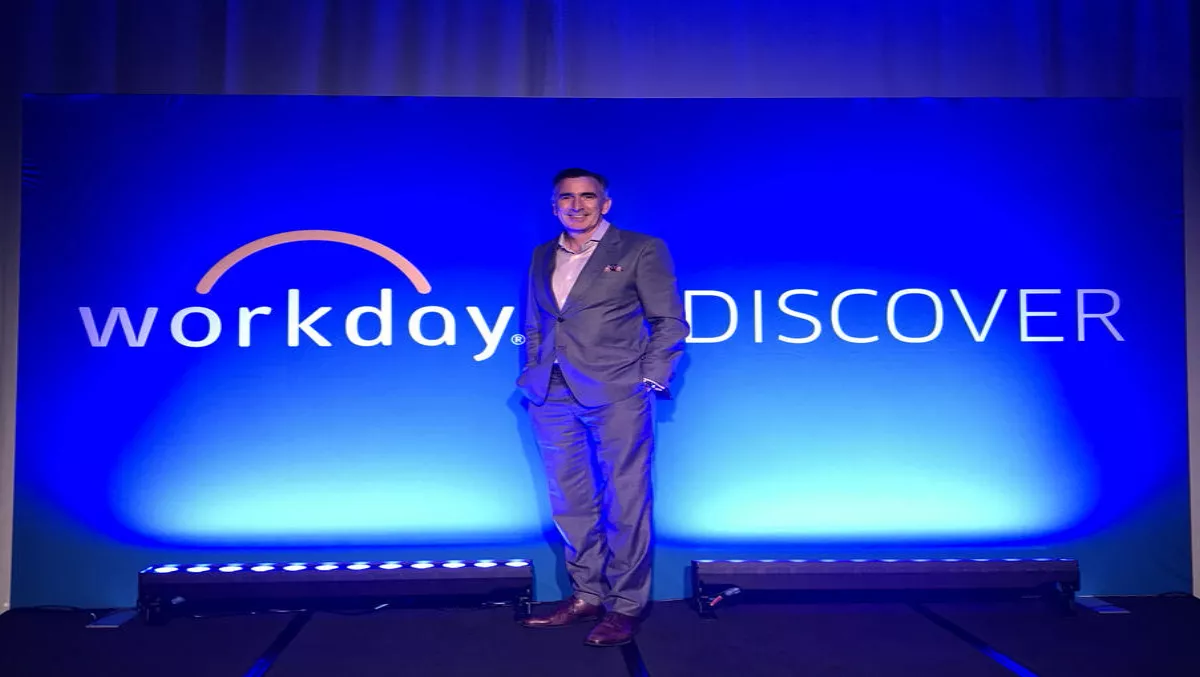 Exclusive interview: Workday's aggressive APAC expansion and dipping into PaaS waters
Tue, 29th Aug 2017
FYI, this story is more than a year old
Workday is a cloud-based human capital management (HCM) software provider that aims to be a fully integrated financial and human resource solution.
Its core business is presenting, analysing, and making HR data accessible through analytics and planning applications.
At the recent Workday Discover event in Auckland recently, TechDay caught up with Workday APAC president David Hope about their expansion plans in the region, the case for the cloud, and exciting announcements the company has in store.
New Zealand as an APAC base
Hope says that New Zealand is really important to Workday as the site of its third global support centre.
The company has a base in Auckland with 60 staff who provide support, environment management, security management, development, and operations.
In its second phase of growth, the company is planning to grow the site to 100 staff.
"Because the data privacy rules in New Zealand are quite strict, and Workday works within that environment, we can look after customers anywhere," he says.
Workday services both local and global clients from the New Zealand site, including companies like Netflix, ING, Air New Zealand, and Fletcher Building.
It currently has 120 New Zealand clients using its software.
Hope says New Zealand was one of the first markets in APAC Workday set up in because of the maturity of the market and the speed of cloud adoption.
"It's helped us then to springboard into the rest of the region, where we're growing very quickly."
He's excited about Workday's aggressive expansion in the Asia-Pacific region.
The company has set up new regional offices in Singapore, is opening up an operation in Korea, expanding to Thailand, and doubling their sales force in the region.
Expanding cloud market penetration
Hope believes that the whole enterprise resource planning (ERP) industry is moving to the cloud.
He says some of the biggest companies in the world are starting to announce cloud-only strategies.
"Typically, HCM and finance are very logical places to start for cloud adoption," Hope adds.
"60% of our customers have replaced legacy on-premise systems, and of those, 70% are live and successful.
He says that companies are recognising that moving to the cloud delivers significant competitive advantages in terms of speed and empowerment of the end user.
"Compared to legacy systems which are 25-years-old, siloed data, requiring heavy administration and really designed for a manufacturing era, in today's business, the key priority is agility, broader access to analytics, and information to support planning and decision-making.
"The flexibility of the cloud allows companies to do that without the big upfront investment in infrastructure," Hope says.
Customers must come first
Workday prides itself on prioritising customer satisfaction as a key point of differentiation.
"Our whole strategy is to let the customer speak - there's no better advocacy for our success than customer satisfaction," he says.
"We have a 95% global target for customer satisfaction, and our latest result of the last 12 months is 97% satisfaction.
Workday commissions an independent survey of its customers twice a year.
The first one is sent a month after they go live, which is normally when a customer feels the most challenged by the implementation process, and the second one is a regular annual survey.
Launching soon - Workday PaaS
One of the upcoming announcements Hope is excited about is the Workday Platform-as-a-Service (PaaS) which will be announced at its annual Workday Rising event in October.
"We will be opening up the Workday cloud, and that will allow our customers to use Workday as a digital backbone," he says.
"So all of a sudden it's not just purely HCM and finance, but we will open it up to customers, developers, independent software vendors (ISVs), partners, and it allows more flexibility.
The Workday PaaS has had soft launch announcements, but the finer details will be unveiled later this year and customers will speak on specific use cases of the new offering.
Hope says customers have requested the feature from day one, but there were four other things Workday had to do first.
"We had to launch our HCM right, start off the international expansion, roll out the financial solution, and work on our prism analytics and planning solution.
Hope says all of the initiatives are customer-driven, as Workday has a very aggressive customer community that feeds back about what they're after.
He's positive about the feedback, enquiries and interest Workday has received and optimistic about their growth in the region.
"I think the only way is up," says Hope.