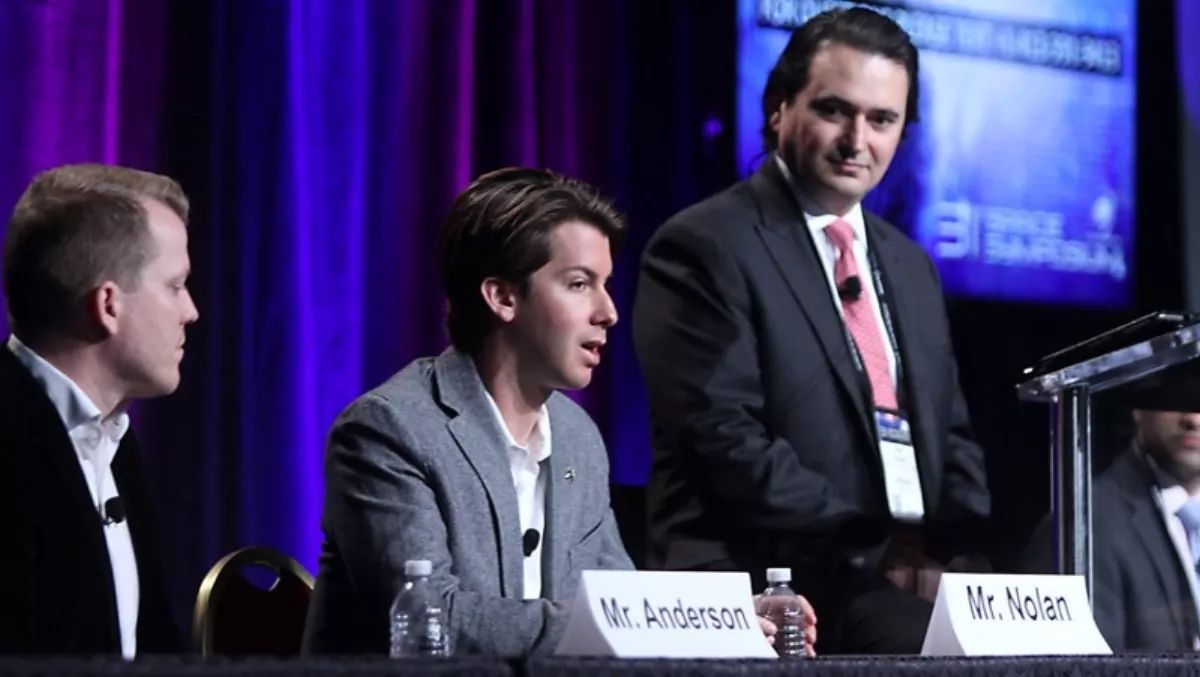 Former SpaceX employee accelerating NZ companies solving the world's problems
FYI, this story is more than a year old
EHF Investor Fellow Scott Nolan built his first rocket at the age of 6.
The rocket was launched from the field behind a local elementary school in his home state of Missouri, spiralled upward, and then… didn't do much at all, aside from crashing to the ground.
He describes that first experience as "less than notable", but it began a multi-decade journey in rocketry.
And he certainly got a lot better at designing rockets as he got older.
Scott has been fascinated with airplanes and spacecraft as long as he can remember, which led him to study mechanical and aerospace engineering at university and become an early employee at SpaceX, Elon Musk's private space company.
After spending a few months with Boeing after university, one of the world's largest aerospace engineering companies, Scott was lured to the startup world in 2003 by the prospect of working with SpaceX, still an early stage company back then.
He spent several years helping to design their engine systems and an early version of the Dragon spacecraft and stood out for his dedication to solving problems.
It was the culture of innovation, bold exploration and pushing boundaries that SpaceX is so well known for that motivated Scott to pursue technology-driven entrepreneurship after he left the company.
"Working at SpaceX taught me how much a driven, clear-thinking group of people can accomplish when focused on a specific tractable problem," Nolan says.
He worked in strategy consulting with Bain - Company before co-founding his own venture.
Investment and VC
But it was in the venture capital world that he found himself best placed to achieve his personal mission of accelerating positive human, societal and global progress.
Scott now works with Founders Fund, one of the top VC firms in the world, to invest in the companies he believes are solving the world's largest problems.
With an eye for picking great entrepreneurs early on in their career and a deep understanding of the latest trends in technology, he is particularly passionate about investing in companies that are innovating and making breakthroughs on longstanding problems, or in industries that have resisted progress for decades.
This lens sees him investing in healthcare, biotechnology, manufacturing and blockchain technologies.
Most recently, he's been excited to invest in automated manufacturing company Plethora, Planet Labs, which was founded by NASA engineers to build a constellation of Earth-imaging satellites for humanitarian and commercial applications, and Synthego, which is focused on building tools to enable synthetic biology.
When vetting entrepreneurs for investment, Scott looks for founders with a fundamentally unique view of the world, with a deep internal motivation, and with a level of rigour that's driven by their own expectations, rather than to satisfy investors or anyone else outside the company.
"I'm focused on investing capital into the companies I believe will make the biggest impact, and then working with those teams on strategy and execution. It's an intrinsic motivation I've always had, fuelled by a core belief that making things better for those in your life and the world at large is the best use of the time and resources we're all given," he says.
Finding New Zealand
Scott's first connection with New Zealand began in 2011 during a weeklong trip to experience the country's incredible outdoors.
He found Aoraki (Mt. Cook) to be his favourite place, due to the incredible hiking, mountain glaciers and beautiful waters of Lake Pukaki.
While this first trip was enough to make him fall in love with the country, he also quickly came to recognise and appreciate the expertise in a range of valuable sectors, and the culture of innovation, from technology to policy.
The Global Impact Visa which has allowed Scott to come to New Zealand is an example of how New Zealand's forward-thinking immigration policy that recognises the value that highly-driven entrepreneurs and investors bring.
Within a few more visits, including a 2014 series of startup meetups with Y Combinator president Sam Altman, Scott's work life was rapidly integrated with the NZ startup ecosystem.
In 2015, Scott was a key facilitator in a Series-A funding round that saw Kiwi virtual and augmented reality company 8i raise US$13.5million.
Going well beyond just investment dollars, he has been incredibly generous with his time and opening his networks to Kiwi companies, often beginning conversations with "How can I help?
He has many tips for Kiwi companies looking to raise investment, and sits on the board of Kiwi Landing Pad, helping Kiwi companies to gain access to customers and markets in the US.
In New Zealand, he sees huge opportunities in agriculture, biotechnology, transportation and delivery, and finance, given the country's expertise in these areas and ability to execute quickly.
"New Zealand's combination of environment and culture makes it one of my favourite locations, and its sector expertise and startup ecosystem make it a great place to build new things.
Scott Nolan joins the inaugural EHF cohort as an investor.
Building on the momentum he has developed in the past few years in New Zealand, the most exciting aspect of EHF for him is the potential to build new relationships in New Zealand's startup, business, technology and policy worlds.
He sees his role as being a catalyst for strategy, technology development and capital raising, and hopes to help accelerate the work New Zealand entrepreneurs and organisations are already doing, or in some cases are still only considering.
After a number of visits, Scott is looking forward to doing his best to be of service to the New Zealand innovation community both within and outside the fellowship.