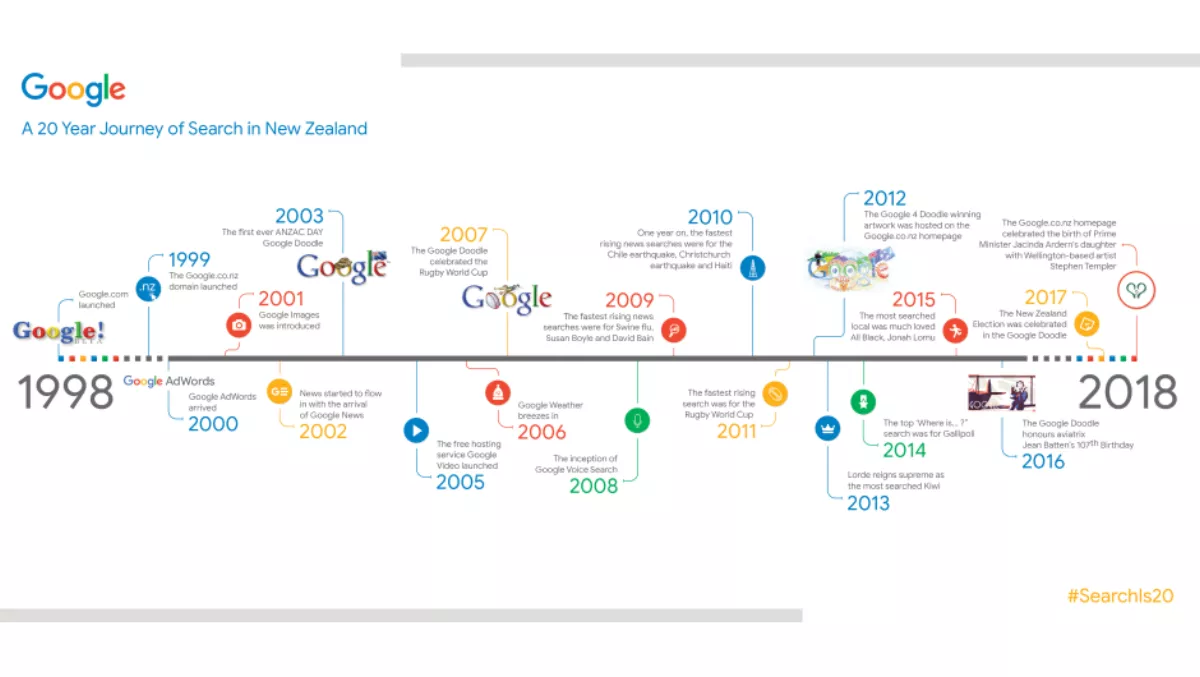 Google marks 20th anniversary with glimpse of what's ahead
FYI, this story is more than a year old
Uncle Google, Dr Google, Google is your friend… whatever names you call one of the world's biggest search engines and media platforms, chances are at least once in the last 20 years you've used it in some way.
This Friday marks Google's 20th anniversary – and to celebrate the company has taken a trip down memory lane - as well as a trip into the future of Search.
This story's main image shows what milestones Google has achieved and what Kiwis have searched for over the last 20 years.
Did you know Google Images was introduced in 2001 and in in 2011 the fastest rising search was for the Rugby World Cup?
Google's VP of Search, News and Assistant Ben Gomes says there is much more to come.
It started with access to information. "When Google started 20 years ago, our mission was to organize the world's information and make it universally accessible and useful," says Gomes.
"That seemed like an incredibly ambitious mission at the time—even considering that in 1998 the web consisted of just 25 million pages.
Now it indexes hundreds of billions of pages and offers search in 150 languages – but despite its colossal database, Gomes says Google remains grounded in its mission to provide greater access to information.
Google's principles to search have always stayed the same. They include a focus on the user; access to the most relevant, highest-quality information through Page Rank; algorithms that anticipate search queries; and a rigorous process that tests every change the company makes.
"Every change to Search is evaluated by experimentation and by raters using these guidelines. Last year alone, we ran more than 200,000 experiments that resulted in 2,400+ changes to search," Gomes explains.
He also provides a glimpse of what lies ahead for Google. Artificial intelligence improve Google's ability to understand language. This will take the form of neural networks and 'neural embeddings'.
Gomes explains: "Neural embeddings, an approach developed in the field of neural networks, allow us to transform words to fuzzier representations of the underlying concepts, and then match the concepts in the query with the concepts in the document.
"We call this technique neural matching. This can enable us to address queries like: "why does my TV look strange?" to surface the most relevant results for that question, even if the exact words aren't contained in the page. (By the way, it turns out the reason is called the soap opera effect).
He notes that Google will continue to evolve Search to shift from simple answers to journeys; queries to queryless ways to get information; and more visual ways of finding information.
"Providing greater access to information is fundamental to what we do, and there are always more ways we can help people access the information they need. That's what pushes us forward to continue to make Search better for our users. And that's why our work here is never done," Gomes concludes.