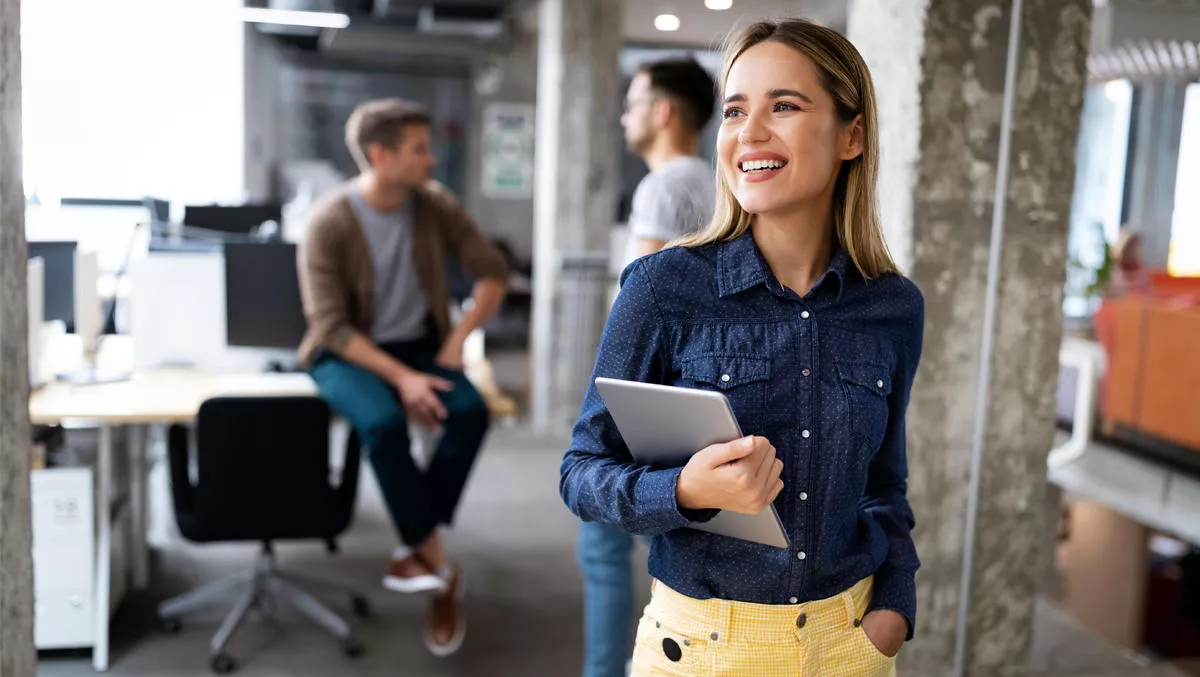 How a NZ business keeps staff connected and productive across the country
Mon, 22nd Jun 2020
FYI, this story is more than a year old
With over 100 employees across offices in Auckland, Christchurch, and Wellington, Voyager Internet knows the importance of keeping staff connected. To maintain an optimally running network and continue developing new services for customers, it's crucial for everyone in the business to always be on the same page.
Having three separate offices and a handful of permanently remote workers meant this was a challenge at the best of times. And it would have been nearly impossible over lockdown, had it not been for a key tool in the Voyager arsenal: Microsoft Teams, a powerful, cloud-based team collaboration tool.
After extensive research and testing, Voyager chose Microsoft 365 and Teams for its wide range of built-in functionality.
Its Office tools were already familiar to most employees, and the cloud-based collaboration capabilities were key in enabling staff across to country to communicate and work together in real-time.
A look at how different departments use Teams:
The sales team engages with customers via virtual presentations and video calls, enabling personal interaction even from afar.

Marketing runs live webinars for external customers using the Teams Events function. The team also integrated Microsoft Planner to track marketing strategy and tasks.

The development team utilises the virtual whiteboard feature for meetings where staff are in different places.

The product team creates individual groups for product launches, where tasks are assigned, meetings are scheduled, and files are shared so that all work relating to a specific project is in one central place.

The executive team holds company-wide monthly meetings to provide updates to the entire business, bringing together all offices and remote workers.

"Teams is vital when making those all-important connections with customers," says Voyager sales manager for SME Angela Hunter.
"When meeting face to face isn't possible, my sales team can still make a personal connection using video calls, screen sharing for demos, or presenting proposals.
Voyager's marketing executive, Megan Harrison, agrees with how Teams supports a strong customer connection. "The Teams Events function gives us a powerful, built-in tool to quickly and easily pull together live webinars, presentations, or events that look professional and give us that ability to interact with customers," says Harrison.
"Even if someone's not a registered Teams user, they can still attend a live event."

Working better together, even when apart
After Voyager implemented Microsoft 365, collaboration across the business quickly rose and usability improved with greater integration between applications.
Staff that are often out on the road can work from any device and always have access to the Voyager database, files, and other resources.
"We saw a huge rise in productivity," says Voyager systems architect Todd Bryant, who was responsible for choosing and testing Teams.
"Having that collaboration enabled by integrated tools really meant we started working as one big team."

Teamwork in the time of COVID-19
When New Zealand went into lockdown, Teams played a massive role in Voyager's ability to continue operating seamlessly. Since staff were already using the solution, employees quickly shifted to remote work with minimal disruption.
Files, meetings, schedules – all aspects of staff's daily tasks are as available when working from their lounges as they are when working from the office.
The stats don't lie: over just 30 days during lockdown, Voyager staff sent 5,392 channel messages, 126,304 chat messages, and held 945 Teams meetings.

Work, but play too!
In a typical week, you'd find Voyager staff wandering the offices for a chat, catching up over coffee, shooting a friendly (yet often competitive) game of pool, and gathering in the kitchen on Friday afternoons for social drinks. But with staff working remotely, there was concern about maintaining that fun Voyager culture.
Enter: Teams. Office chats didn't stop, they went virtual.
Friday drinks continued via group video calls, as did celebrations for birthdays and work anniversaries. Gifs were shared for a laugh. And all manners of interesting video backgrounds made for great conversation starters.
The team culture didn't die - it adapted and thrived.
Now is a great time to join Voyager and the other 75 million daily users to get Teams and Microsoft 365 for your own business. New users that sign up with Voyager before 30 June get 6 months free! Click here to learn more.