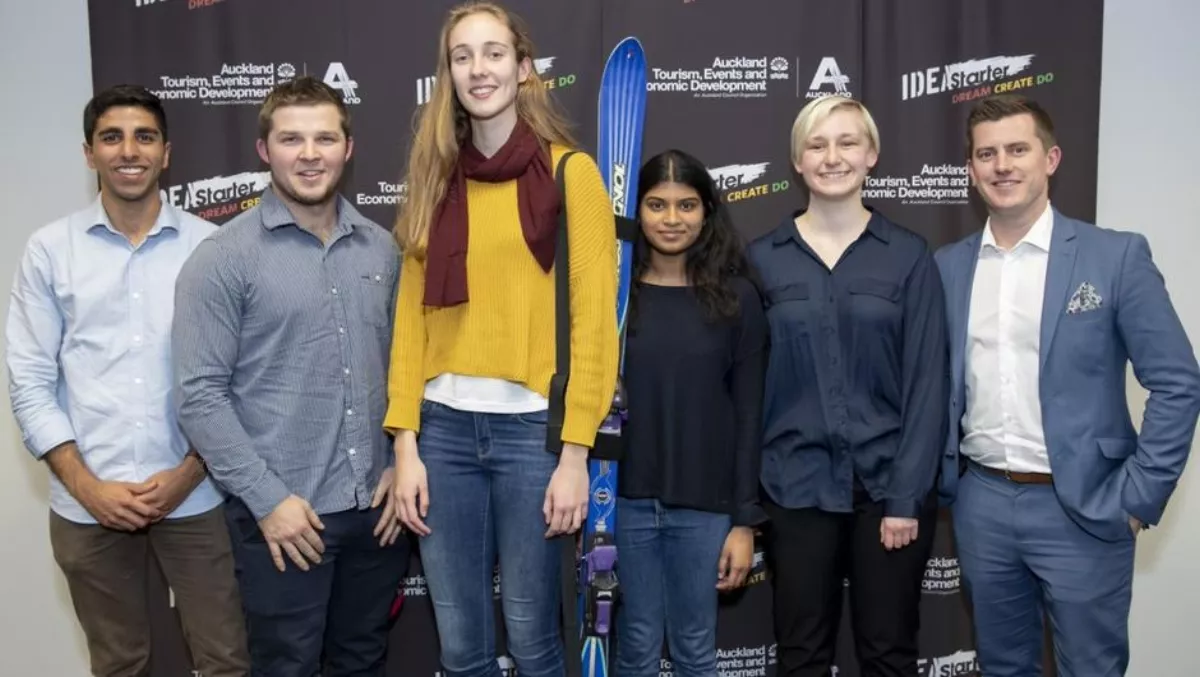 iDEAStarter celebrates New Zealand's young entrepreneurs
FYI, this story is more than a year old
From ski innovation to horticulture, an emphasis on making people's lives easier has netted two teams of entrepreneurs $10,000 each to help build their business startups.
Earlier this month finalists in iDEAStarter were put through the paces at AUT University as they pitched their business ideas at a dragon's den-style event.
The iDEAStarter event, delivered by Auckland Tourism Events and Economic Development (ATEED), helps young entrepreneurs between age 15-24 develop their ideas and goals.
In the age 15-18 category team members Emma Welte, Isobella Nicholls, Steffy Henry Albert, and Eden Alter won for their 'Ski Sock' design. They describe it as an innovative carrying device to help ski enthusiasts carry their skis.
In the age 19-24 category, team members Jaskamalpal Barsa, and Lue Reed took out the top spot for MapMyCrop, which they describe as being able to provide accurate data for the horticulture sector by using new technology.
ATEED General Manager Economic Development, Pam Ford, commends all those who entered iDEAStarter and congratulated the winners.
"It's really important to support young people to dream, create and do – they are our future business leaders and exporters," she says.
"iDEAStarter is a platform which gives budding entrepreneurs the mentors and tools they need to help them on their journey. We've seen impressive businesses built from previous competition winners, which shows that it really works to nurture talent from the outset.
Judge Wynona Dekker, who is also CEO of the University of Auckland's Unleash Space, says that a common theme throughout all the ideas was the idea of making people's lives better in a number of ways.
"The wonderful thing about ideas generated by 15-24-year olds is that they haven't spent an entire career becoming accustomed to risk and limitation, so they're willing to have bold ideas," she comments.
Auckland Councillor and youth advocate, Richard Hills, adds that the competition is a great avenue for young people to let their ideas grow, get legs and take shape.
"Your ideas are what Auckland needs to be an inclusive and diverse city. It's your ideas which will fix traffic congestion, restore and protect our environment, create new and interesting jobs, and change the way we do things today," he said at the event.
The iDEAStarter winners will receive up to $10,000 in business startup support, including:
iDEAStarter winners each receive up to $10,000 in business start-up support, which includes: • Nine-week entrepreneur programme with CO.STARTERS@AUT • $1000 Scholarship from Massey University • Accounting Mentoring from Chartered Accountants • Accounting Software from Xero • An awesome technology package • Office space and membership at GridAKL offices.