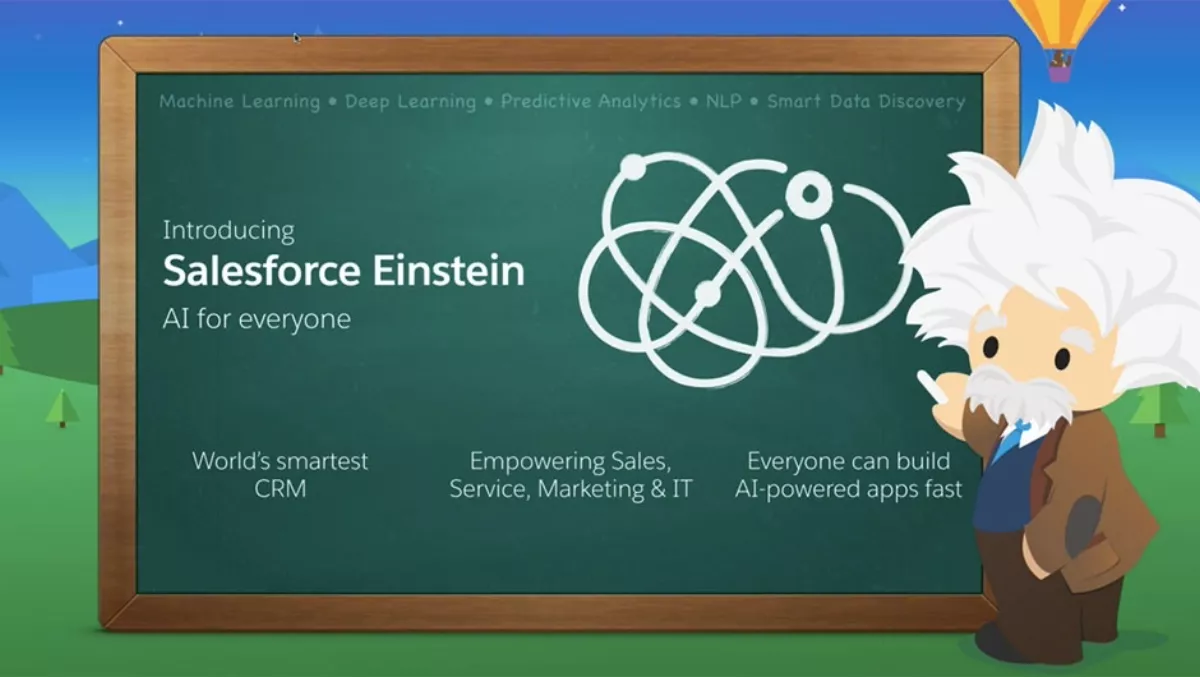 Inside Salesforce Einstein: The AI that can help CRM work smarter
FYI, this story is more than a year old
Salesforce was the first CRM provider to bring artificial intelligence (AI) to its customers through the launch of Einstein, and the company is not slowing down anytime soon.
In an interview with Allison Witherspoon, director of product marketing, she explained that it was about giving customers what they wanted.
She says that so much AI has been used in the consumer space across many different areas, but Salesforce saw an opportunity that hasn't yet been realised: What happens if you take AI and machine learning and apply them to a business?
The result was Salesforce Einstein, which can take all of your data – from emails, calendars, IoT, image data and much more – and reveal insights Allison says you can use in many different ways.
Witherspoon says that Einstein can first discover those insights for prediction, recognise the next steps that users should take, and eventually it can automate those tasks for customers.
"It's a new level of intelligence built on data layers," she says.
Einstein's functionality isn't just limited to sales reps or the developers, as Witherspoon says that everyone on every end of the spectrum can take advantage of AI.
Einstein uses its own machine learning models based on the data it collects, what Witherspoon calls AI breakthroughs.
So while competitors may shrug off Einstein as a marketing gimmick, Witherspoon says it's a new layer of intelligence that makes things smarter – and it's fundamental to their business.
In fact, after just four months of Einstein being available to the public, Witherspoon says that it's all about use cases. She says Salesforce staff even use Einstein for their own leads, helping sales reps prioritise, focus their days and hit their quota.
She says Salesforce staff also make use of Community cloud, chatter products and machine learning, all to help benefit its own operations, as well as their clients'.
Currently Einstein takes a platform approach. Developers can use technical APIs and there is room for some customisation, but the ultimate goal is to be much more flexible. Witherspoon says that many features are out-of-the box, but customisation is the ultimate goal.
She also says that the amount of data customers have is no issue – whether it's a small or large data pool, it's all about democratising AI. Choosing your data model, with the possibility of opting in to others.
The Spring 2017 release of Einstein is banking on new features for its Salesforce Clouds. The company says it's able to deliver three releases a year with hundreds of new features.
Pricing is on a per cost per feature basis. Depending on the feature and cloud, customers may be able to turn on features at no additional cost.
You can read more about Salesforce Einstein here.
Related stories
Top stories