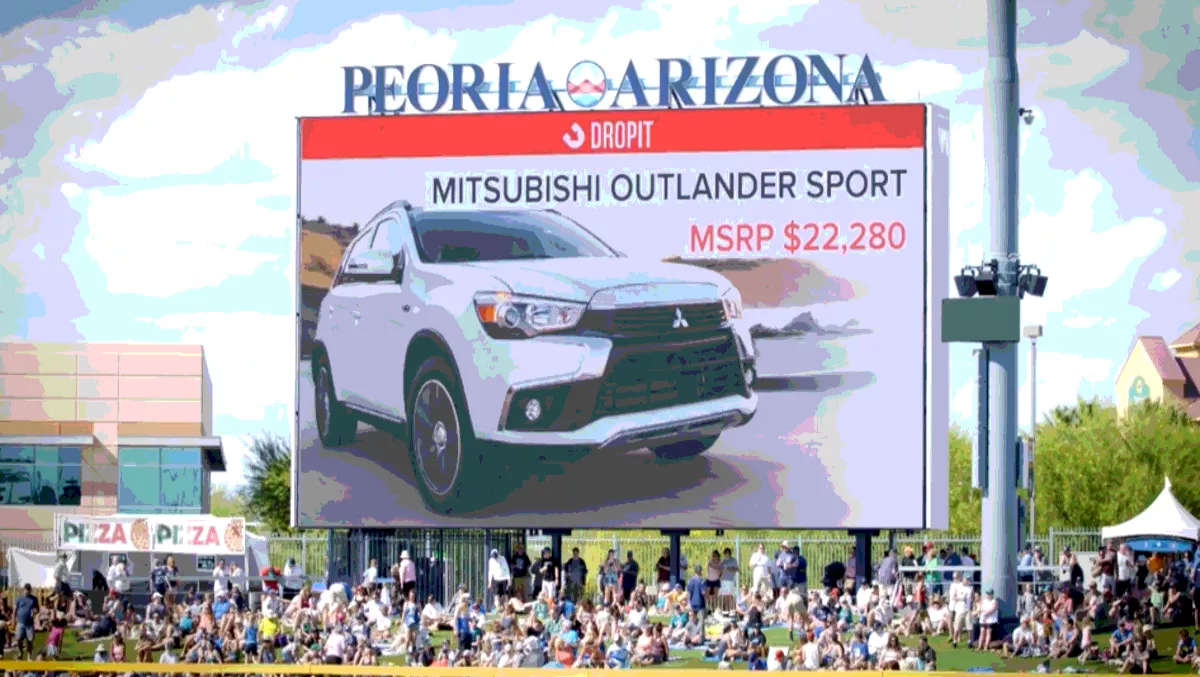 Kiwi app DROPIT and NBA's Phoenix Suns sign three-year partnership agreement
FYI, this story is more than a year old
Kiwi app DROPIT has scored a slam dunk in the world's premier basketball league after signing a three-year deal with the NBA's Phoenix Suns.
More than 180,000 avid fans are expected to interact with the DROPIT app during Phoenix Suns' home matches this 2017/18 NBA season.
DROPIT is an interactive fan engagement app connecting sponsors and teams with their fans during exhilarating 60-second drop auctions.
The app was created and launched in November 2015 by Mount Maunganui brothers Peter and Brendan Howell.
The DROPIT live drop auctions will be broadcast simultaneously on Phoenix Suns' in-stadium big screens and fans' mobile phones during breaks in the game.
Fans will unite in a competitive "game of chicken" for the chance to win exclusive items and experiences.
"Our partnership with the Phoenix Suns is a game-changer for DROPIT in the US Major League sporting market," says Peter Howell, DROPIT CEO.
"The NBA is the pinnacle of basketball in the world and so it is a very proud moment for us, highlighting our beginnings from a small-scale Kiwi startup to a global tech company.
According to Forbes, the Suns are worth US$1.1 billion.
The upcoming NBA games, beginning in October will see DROPIT working with both the Phoenix Suns and their sponsors to drop the price of courtside tickets and five signed Phoenix Suns jerseys, with additional auction items to be revealed during the next few weeks of pre-season build-up.
"Fan engagement continues post-game with exclusive, targeted brand offers delivered to mobile phones post-auction, driving fans from seats to stores, increasing revenue and return on sponsorship for major consumer brands," says Howell.
DROPIT has a widespread, established fan-base in Phoenix, resulting from the company's successful US launch in the city in March.
20,000 fans had an exclusive opportunity to play DROPIT during two MLB (Major League Baseball) spring training games in the Suns' hometown.
DROPIT worked closely with local sponsors, auctioning off a 2017 Ducati Panigale 959 and a Mitsubishi Outlander Sport.
"It's pretty special to celebrate 50 years of Phoenix Suns basketball," says Dan Costello Phoenix Suns innovation chief commercial officer and senior vice president.
"We are always looking to team up with like-minded partners that assist in elevating the game day experience and are excited about our new partnership with DROPIT. We think our fans will love it and Talking Stick Resort Arena is a terrific venue to showcase the DROPIT app's capabilities.
Howell says, "Such a partnership puts DROPIT on the global basketball map and showcases how DROPIT is a leading innovator by providing a 'game-changing' new solution to the fan disengagement problem impacting sports teams and sponsors".
Video here