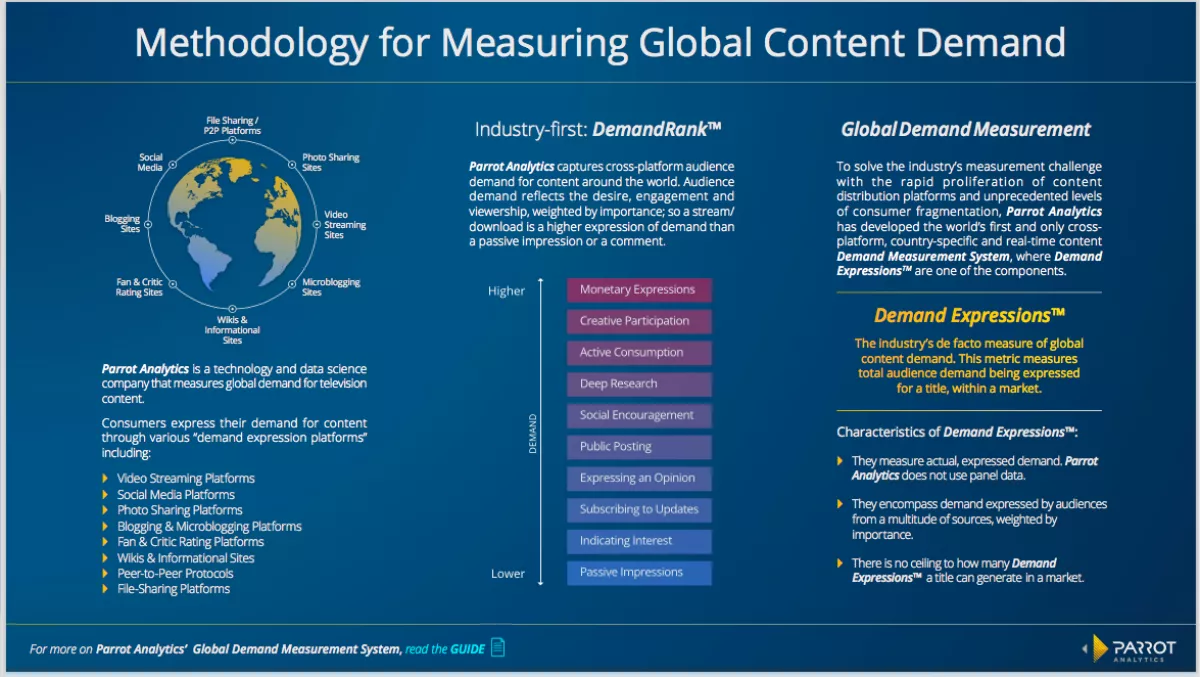 Kiwi company's game-changing global audience demand measurement platform
FYI, this story is more than a year old
The popularity of television shows is judged based on a flawed and outdated ratings system that only takes in the preferences of a limited subset of the television audience.
This system is also unreliable because it fails to take into account the preferences of viewers who watch television shows online on devices other than their TV set.
Filling this information gap is Auckland company Parrot Analytics, who have developed a technology platform to capture and analyse global television content demand and consumption over the Internet in real time.
Partnering with media companies, brands, and agencies, Parrot helps them to understand global audience demand for existing and new television content using a combination of big data and artificial intelligence.
CEO Wared Seger and Chris Riddell co-founded the company in 2013 when they were studying together at the University of Auckland.
After entering the Icehouse startup incubator, they raised over $1million in funding and syndicated with investor K1W1, owned by Stephen Tindall.
The company is currently headquartered in the US and in Auckland.
"We are literally solving some of the biggest measurement challenges that the entertainment industry has ever faced, and we are doing this on a global scale for every TV show, in every country," Seger says.
Parrot Analytics' platform, which runs on Amazon Web Services, can capture and analyse audience behaviour including video streaming consumption, social media, blogging platforms, file-sharing and peer-to-peer consumption spanning 249 countries.
This allows media companies to understand audience demand for content across all content distribution platforms in markets around the world.
"Our clients rely on our systems and data as a tool in shaping strategic marketing and content distribution plans," Seger says.
The biggest challenge they're currently facing is finding people with the right skills, and Seger says Parrot is looking for the very best talent to join it in data science and technology.
"The people that we choose to work with understand how to maximise value from data using cloud services to drive our customers' business forward while pushing the boundaries of data science and making sure we solve for future challenges."
In April this year, Parrot partnered with Brazilian television giant Globo TV to help them gain a "competitive edge for mapping new tends and content production opportunities worldwide".
Globo TV's footprint in Brazil encompasses five wholly-owned television stations and 118 affiliates, together covering 98% of Brazilian households and televisions.
The company produces about 6,000 hours of content each year in Brazil.
Besides Globo, Parrot has also formed partnerships with other media companies worldwide, including BBC, FOX Networks in the UK, Mediaset in Italy, and Lightbox in New Zealand.
BBC was able to identify audiences for its shows Sherlock and Doctor Who in other foreign markets using Parrot's platform.
"Due to the increasing fragmentation and a lack of a global content measurement system, the industry is now utilising Demand Expressions as the global standard metric for content popularity," Seger says.
"There are plenty of complex projects to work on in the TV industry, which means we continue to play on the bleeding edge of engineering and data science for years to come," he adds.
Related stories
Top stories