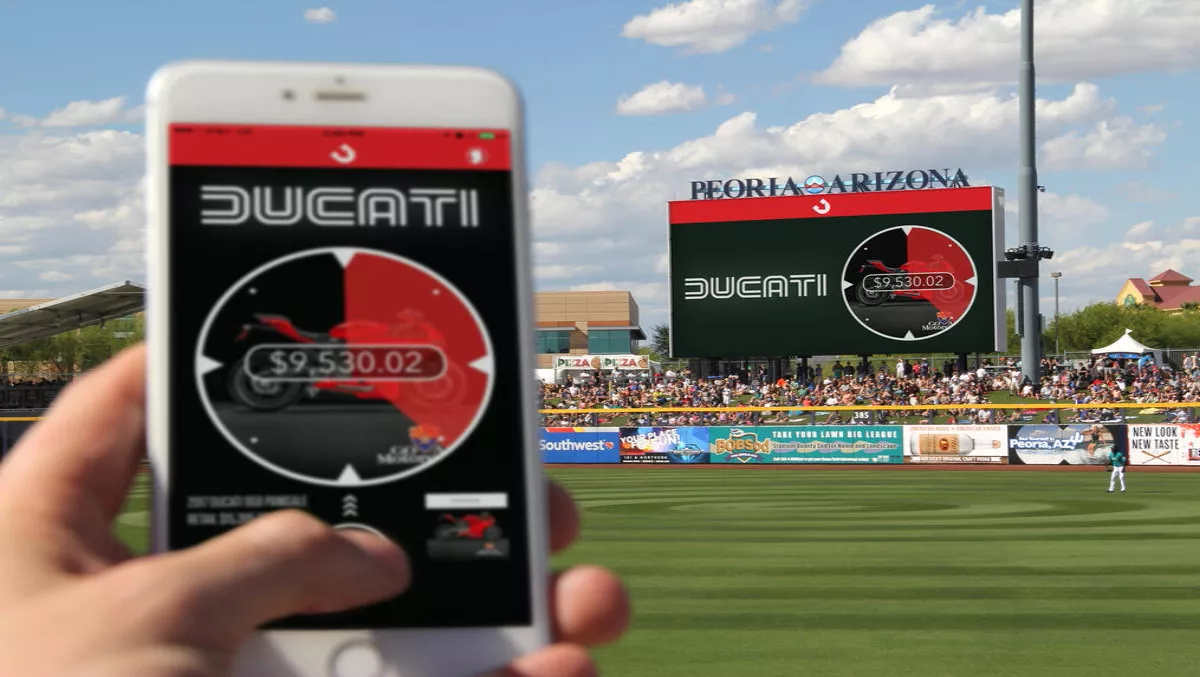 Kiwi startup DROPIT raising US$5m to disrupt US sports sponsorship market
Tue, 15th Aug 2017
FYI, this story is more than a year old
Kiwi company DROPIT's bid to acquire new investors and raise US$5 million in its latest funding round has got off to a decent start, securing investments from some of New Zealand's most successful and prominent businesspeople.
DROPIT, an adrenaline-pumping, interactive, fan engagement app which auctions off premium items and experiences in 60-second reverse auctions, was created and launched in November 2015 by Mount Maunganui brothers Peter and Brendan Howell.
Capital raising
This month, the company announced it is seeking expressions of interest from investors as part of an equity capital raising process structured as a placement of new ordinary shares to wholesale investors to raise US$3.6million to US$5million, at an offer price of US$6.30 per share.
Between 570,000 and 790,000 new ordinary shares in DROPIT will be offered at a minimum investment of US$200,000, says DROPIT CEO Peter Howell.
Michael Blennerhassett, a DROPIT non-executive director, says, "This fundraising will help put the company in a strong position to execute on its US expansion strategy, leveraging its innovative technology, strong US distribution relationships and US-based sales and marketing team for further investors to approach DROPIT.
DROPIT recently relocated its head office from San Francisco to Miami – deemed the second most entrepreneurial city in the US, with the highest startup density at 247.6 startups per 100,000 people, according to the Kauffman Index.
The company has a patent pending on innovative processes and technology to ensure it is fully protected from future competitors, including the "Drop Clock", the "Bid Feature" and the "Swipe to Buy" control.
Registered design and trademark protections have also been lodged.
Howell says initial funding rounds in 2015 were primarily marketed to "friends and family" together with a small raise taking place through Pledgeme, the New Zealand-based crowdfunding platform.
Most recently, US$1.6million in capital has been raised through placements to a small number of wholesale investors between March and June this year.
Howell says having this early support and backing from key investors has accelerated DROPIT's rapid growth from a small-scale startup to a Kiwi company doing exceptional things on the global stage.
Tackling fan disengagement
The drive to attract new investors was bolstered by the fact that DROPIT, earlier this year, signed a distribution deal with Daktronics, the world's leading manufacturer of electronic scoreboards and digital signage.
"Our venues and teams are hungry for interactive content, and DROPIT offers an ideal opportunity to better engage with fans, given the quick breaks in action during games," says Josh Howardson, Daktronics commercial sales engineer.
"The DROPIT platform can easily be integrated across hundreds of professional and collegiate global venues, and we are excited to partner with DROPIT to bring a game-changing experience to fans.
In March this year, 20,000 fans had an exclusive opportunity to play DROPIT during two MLB (Major League Baseball) spring training games in Phoenix, Arizona.
The major auction item, a 2017 Mitsubishi Outlander Sport retailing at US$22,280, sold for US$11,850.
A key success factor is that DROPIT is in a leading innovation position by providing a 'game-changing' new solution to a major problem impacting both sponsors and teams in the sports industry – fan disengagement.
"Advertising on big screens in stadiums is failing to deliver on its potential. Fans are disengaged, distracted by their phones, and match attendance levels are stagnating," says Howell.
"Our DROPIT platform delivers fan engagement and immersion: creating pre-event anticipation and excitement followed by an 'adrenaline-pumping' reverse auction in-stadium experience multiple times during breaks in games.
"These live, reverse auctions run simultaneously on the stadium's video board and the fans' mobile phones. Engagement continues post-game with exclusive, targeted brand offers delivered to players mobile phones post-auction, driving fans from seats to stores, increasing brand loyalty and return on sponsorship for major consumer brands.
Howell says DROPIT is focused on lucrative segments of the US digital advertising market.
"The US market for digital advertising spend is forecast to grow 16% in 2017 to US$83 billion providing the company with significant scope for growth.
The niche market of in-stadium sports sponsorship is DROPIT's initial focus with a market opportunity of US$15 to US$20 billion per annum.
Shopping malls are a further area of focus given Daktronics' significant distribution strength in this area.