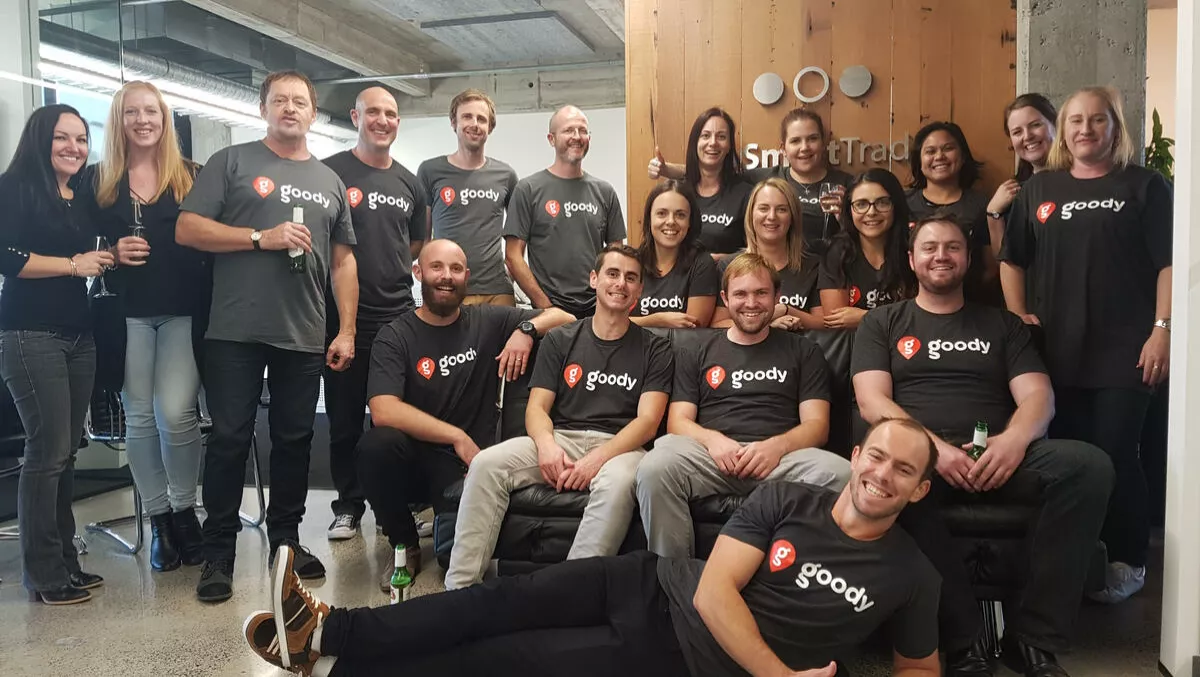 Kiwi Startup Spotlight: From loyalty card, to app, and beyond
FYI, this story is more than a year old
Like many Kiwi businesses, Goody was born out of a conversation between friends over a drink.
Sick of carrying around wallets bulging with loyalty cards, Gorran Marusich saw an opportunity to develop a universal loyalty and rewards platform, accessed by merchants and customers alike, through a smartphone app - and without a card in sight.
"Members benefit with a universal app they can use wherever they go, earning rewards and redeeming free offers created by local businesses," says Goody marketing manager Rory Moss.
While Goody began its life as a legacy tablet app hosted on-premise, the company has taken the loyalty function idea a step further.
It created an end-to-end customer engagement platform that connects merchants with their customers; a 'virtual wallet' where a smartphone app enables customers to earn rewards for supporting local business, and local businesses can grow their customer base through CRM, communication and marketing automation.
"Businesses signing up to use the platform receive access to our cloud-based software and Android tablet app. They can run, manage and own their own loyalty and marketing programme while still being part of a wider network.
"For the local retailer, that means that they've got the tools to compete with a corporate reward programme without the cost," Moss says.
In three years, Goody has attracted more than 550,000 registered members in New Zealand and is on track to reach 1,000,000 within the next five years.
It is now the preferred loyalty programme platform for major companies including McCafe, Jesters Pies, Lumino The Dentist, Host accommodation and Wendy's Super Sundaes.
The startup has raised $750,000 in a recent funding round, with new investors including the Bhatnagar family (one of the top five investors in the NZX) and Pushpay.
World domination
Goody recently launched into Australia and has plans to expand further.
"We've just signed on a further four merchants in Australia," Moss says.
He adds that while there are similar providers in Australia, Goody has proven it can provide both members and merchants value at a price point that's feasible for international growth, whereas similar Australian providers have struggled to grow while maintaining a financially feasible model.
"From my experience, the Australian market is typically 10 times bigger than New Zealand's. Likewise, the US market is 10 times the size of the Australian market.
"We would be looking to replicate the New Zealand figures across these markets.
Scaling in the cloud
Goody's legacy system had limitations in terms of capability, functionality and the inability to accommodate the company's rapid growth.
The business also needed to consider the time and cost impacts of migrating and transitioning the existing legacy app to a new platform without requiring a complete rewrite.
"We wanted to reduce the resource requirements associated with running a legacy system and, to do that, we needed to find a platform with a solid, secure infrastructure that would enable us to grow as a software-as-a-service (SaaS) provider.
"We believed local merchants should be able to have the same toolkit as a corporate programme, and required a platform that could enable this," says Marusich.
Accelerating with Microsoft
Goody applied to be part of the BizSpark programme through Microsoft.
The Microsoft and Azure team helped them accelerate their growth by providing them with free products, services and Azure credit.
Through BizSpark, Microsoft Azure enabled Goody to provide merchants with the tools they need to connect with their customers, and also gave them the opportunity to secure high-end clients, which would not have been possible under its legacy system.
"We found that we could use Azure's existing infrastructure to our advantage, saving us from having to go through rigorous security testing," Marusich says.
"This was especially important as we tried to secure new corporate clients. We simply wouldn't have been able to attract them without being able to leverage the credibility of an enterprise-scale platform-as-a-service (PaaS) solution that's been tested and proven in the market."
Goody uses Azure's app services and Azure SQL to onboard new merchants quickly, from individual retailers to multi-site operations and franchises.
The partnership allowed Goody to focus its resource and production capacity on what it does best: providing a complete solution for store level loyalty and marketing requirements.
"Being on the Azure platform has given us a lot of credibility in the market and the ability to move forward and grow our business with confidence.
"Our ambition in the next five years is to become New Zealand's largest loyalty and rewards platform with the largest library of offers available.