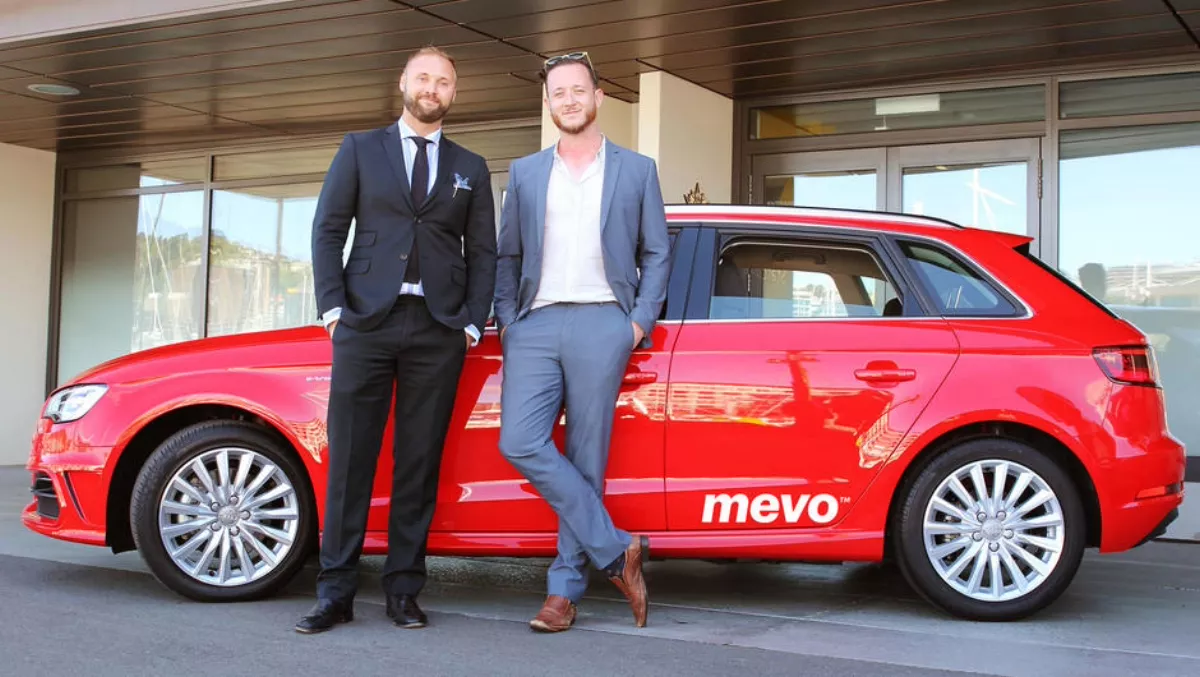 Kiwi Startup Spotlight: Mevo's carshare service makes EVs accessible
Mon, 23rd Apr 2018
FYI, this story is more than a year old
The sharing economy is taking off worldwide, and in some places, it's coinciding with possible measures to mitigate environmental concerns.
Wellington-based startup Mevo saw this as a unique opportunity for a service giving people access to a fleet of shared electric cars in their city.
TechDay spoke to Mevo co-founder and product head Finn Lawrence about how their journey started, challenges they face, and where they're headed next.
What gave you the idea for it?
My co-founder, Erik, and I have both lived internationally; in the US and Europe respectively.
In big cities all over the world, we saw a movement away from private vehicle ownership.
When space is at a premium and you have other good options for getting around like walking, cycling, and public transport, it makes less sense for everyone to own their own car.
That said, there are a lot of things that you might need a car for - trips that can't be done any other way, or that are way too expensive or inconvenient with someone driving you around (e.g. Taxi or Uber).
The answer for many of these cities is a network of shared private vehicles to make mobility just as easy, without the need for private car ownership.
Car sharing is growing fast around the world and the Mevo team is looking ahead to bring international best practice to the coolest little city, Wellington.
Car sharing completes the picture of mobility options for urban residents and allows us to build denser, more livable cities with less of a focus on parking buildings and lots of roads.
What is the gap in the market Mevo is solving?
The private car is typically the second-largest purchase people make - but the average car is used less than 4% of the time.
We realised that this was especially true of Wellington, where many people use public transport, bikes, and their feet to get to work every day.
A lot of these people own cars but only use them for shopping runs, weekend getaways, and other things like that.
If they can afford it, they keep their car in a private parking space in the city.
If not, it lives somewhere else and they have to travel to collect it.
Either way, the average Wellingtonian spend $10,500 every year to own and maintain something that they don't use very often.
Mevo lets these people have another choice: an app on their smartphones that lets them reserve and unlock any one of a growing number of cars around central Wellington.
The hourly rates include insurance, fuel, cleaning, and maintenance, so there are no surprise costs.
Frequent users can sign up for a weekly membership, which gives them access to a discounted hourly rate and lowered insurance excess.
The main car in our fleet right now is the Audi A3 e-tron plug-in hybrid, so most users are also getting an upgrade to a newer, cleaner, safer car.
Today, there is a growing mix of businesses and residents using Mevo.
Businesses can save money and downsize the fleet they lease, while families and residents can give up their car entirely - or avoid having a second one.
Mevo's centrally located fleet is well-suited for users based in the city - but can also increase the mobility of users who choose to leave their car at home and commute on public transport, who might need a car in the city during the day.
What are the biggest challenges of being in the electric vehicle space in NZ?
Electric vehicles (EVs) are a new and upcoming technology - and so there are upsides and downsides to being an early adopter.
In terms of challenges, the biggest is easily the lack of charging infrastructure, and the expense to install this.
Mevo has chosen a plug-in hybrid option for the fleet - the Audi A3 e-tron - meaning the first ~40km of driving is pure electric, with any further travel being petrol hybrid (similar to a Prius).
This gives Mevo customers a full EV experience for many trips, as most are short - while allowing users to travel much further and simply top up with a fuel card located in the glove box if the car runs low on petrol.
The biggest barrier to having pure EVs on the fleet is and will continue to be the lack of charging infrastructure and the consumer education that's required around range anxiety and the varying charging standards.
Additionally, grid capacity issues in our cities combined with the difficulty of installing any hardware on a legal road make it difficult to justify the expense of installation in many places. The recent standardisation by NZTA on the European Type-2 EV connector is flowing through the NZ market right now, and this will make things easier in the future.
What funding has Mevo received to date?
Mevo has raised money from a number of private investors, notably Z Energy - alongside grant money provided by EECA's Low Emission Vehicle Contestable Fund.
What are Mevo's plans for this year?
We are looking to finalise a launch into at least one more major city in New Zealand, and continue to grow our fleet of vehicles.
Our current long-term goal is to have a network of more than 2000 vehicles in five years.
We also have some more top secret stuff in the pipeline which we'll be excited to share later this year.