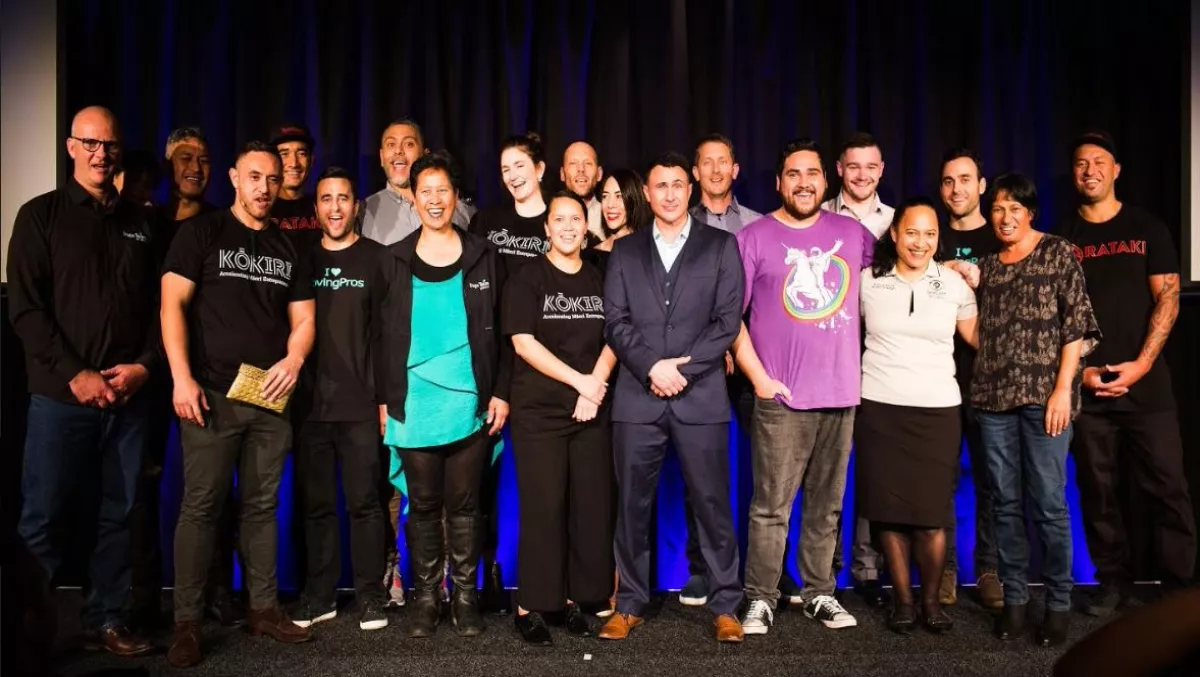 Kōkiri helps Māori entrepreneurs redefine business success
FYI, this story is more than a year old
Twenty participants in this year's Kōkiri business accelerator for Māori entrepreneurs have taken their skills far beyond traditional profit-making ideals, and instead learned how to become socially sustainable businesses.
Over the past four months, the entrepreneurs have been working on 10 ventures under Kōkiri, which include a digital tools for millennials who are learning te reo Māori, and a mobile app that provides information about places of cultural significance.
In its first year, the government-backed accelerator finished with more than half of the 10 companies attracting investment – something Kōkiri programme director Ian Musson is thrilled about.
"Māori entrepreneurs have long been looking for ways to create socially sustainable businesses – and Kōkiri has helped them to do exactly that.
He says that success is not just about getting investment or growing a business in preparation for a sale for profit.
"For our Māori founders, success can also be viewed as nurturing a sustainable business, solving social problems, bringing income into a community or employing local people," says Musson.
He adds that Kōkiri was also designed to recognise that Māori have strong links to place, which can often be a barrier to participation in mainstream accelerators.
"Instead of being based full-time at Te Wānanga o Aotearoa, the local entrepreneurs have remained in their regions and travelled in once a month for intensive on-site sessions. That way they can carry on their whanau responsibilities," he says.
Te Wānanga o Aotearoa innovation development group director Aisha Ross adds that the amount of positive feedback was overwhelming.
"This related to the growth and development of the ventures, the execution of the event, the Kōkiri Business Accelerator kaupapa, Te Wānanga o Aotearoa and its partner organisations," Ross explains.
The Kōkiri programme also has support from MYOB, Air New Zealand, Spark, and others.
MYOB general manager Carolyn Luey says the company is delighted to partner with Kōkiri.
"There is an opportunity to introduce more Māori worldviews into our start-up communities and give Māori-based businesses the tools they need to succeed," Luey says.
"However, we need to keep developing the conditions that nurture and develop the start-ups coming through, and couple those ventures with frameworks, like Kōkiri, that can help turn a good idea into a great business," Luey concludes.
Kōkiri is funded through the Māori Innovation Fund He kai kei aku ringa and is run by Te Wānanga o Aotearoa in partnership with Callaghan Innovation and Creative HQ. It provides start-ups with business mentoring, initial funding and connections to potential investors during the Waikato-based programme.
Kōkiri business accelerator – class of 2018
Moving Pros (Tauranga, Auckland) A company that makes it easy to compare multiple moving quotes from one place.
SeeCom (Hamilton) Prototyping the world's first digital Interactive Sign Language Game, a virtual game-based experience of learning sign language through means of interaction and movements in front of digital screens.
Biome (Christchurch) Turns didymo, the pest algae, into a range of practical materials. These high-quality materials are produced sustainably and strive to improve the New Zealand environment.
Origins (Whangarei, Auckland) A cloud-based platform that provides complete visibility of the of the food and authentic products supply chain from supplier to end consumer.
Papa Taiao Earthcare (Wellington) Papa Taiao works with rangatahi across Aotearoa and across Iwi to guide them into a life focused on social, ecological, economic and cultural regeneration through enterprise in rural and urban communities.
The Realness (Auckland) The new way to find owner-operated providers across multiple sectors without having to rely on review sites, advertising platforms, opinion sites, magazines and mainstream media.
Arataki (Tauranga) A mobile app that enables users to receive information about sites of cultural significance using a custom mobile application and proximity technology.
MyReo (Huntly) Providing millennials with the digital tools and resources they need to learn, practice and grow in te reo Māori.
Hikurangi Enterprises (Ruatoria) Creating sustainable futures for the East Coast of New Zealand through the development of a regional business growth hub to support their mission of a healthy and wealthy whanau and whenua.
Akudos (Whangarei, Auckland) Making people feel valued through a cloud-based awards management system designed to streamline the awards process from beginning to end.