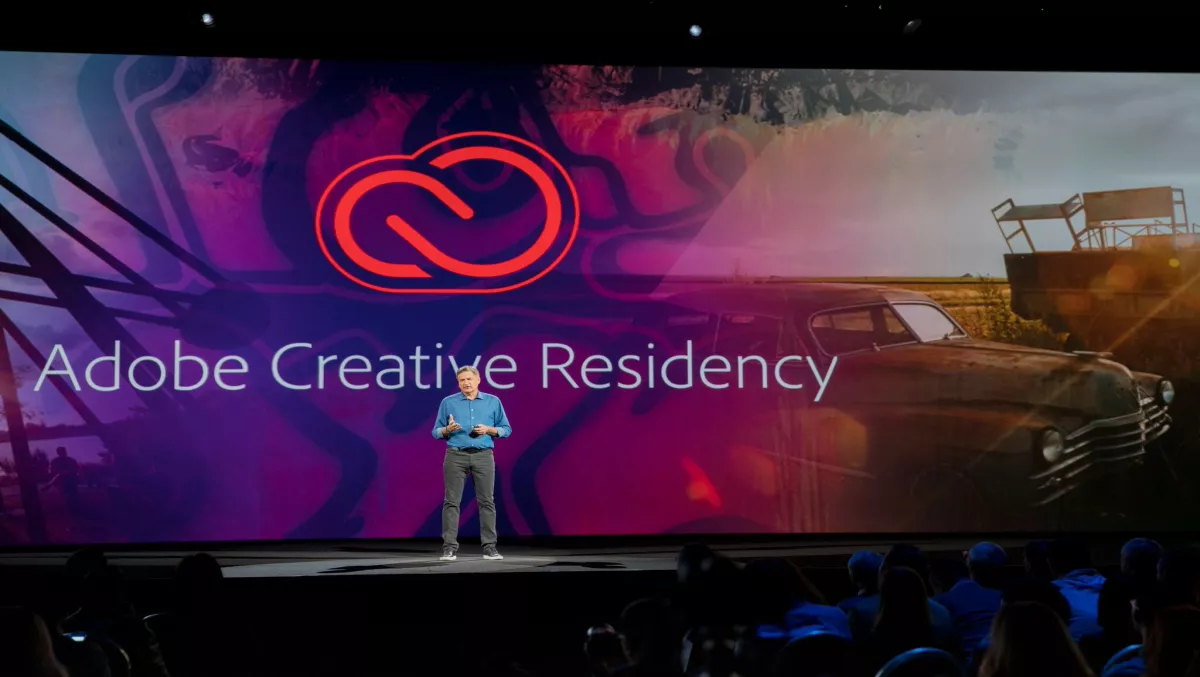 Max 2017: Adobe unveils four new apps for Creative Cloud
Thu, 19th Oct 2017
FYI, this story is more than a year old
By Patrick Martlew, Community Editor
There wasn't much in the way of modesty when Adobe took to the stage for the first keynote of their annual Max Conference in Las Vegas overnight.
With over 12,000 attendees from 63 countries, this is biggest Adobe Max yet, and they marked the occasion with a huge plethora of announcements ranging from product updates to new features and even an update on its Sensei AI platform for Creative Cloud.
Taking the bulk of the limelight, however, was the release of a number of brand new applications for Adobe Creative Cloud that are available right now.
On the announcements, Bryan Lamkin, Adobe executive vice president and general manager for digital media says, "Adobe continues to lead the creative revolution, driving modernization and innovation that will accelerate the creative process across all platforms and devices.
"Today, we unveiled a new generation of Creative Cloud, with a wide spectrum of capabilities—from new experience design, 2D animation and 3D rendering apps to an all-new, cloud-based photography service," he says.
"These tools enable creative professionals and enthusiasts to express themselves and reach their full creative potential anytime, anywhere, on any device.
Adobe has launched four new applications in total and says it is the biggest lineup of new creative applications since the launch of Creative Cloud five years ago.
The new apps include Adobe XD, Dimension and Character animator as well as a brand new Lightroom
Adobe XD
The first of the new applications that Adobe unveiled was Adobe XD, which - previously in beta - is now a fully fledged application available in Creative Cloud.
Adobe XD is an all-in-one cross-platform solution for designing, prototyping and sharing mobile applications and websites.
The Software company says it created the software in conjunction with designers through the beta, using their feedback as a platform the development of the application.
A big emphasis of Adobe XD was the speed of the application in viewing multiple elements of a project, as well as its ability to go from static comps or wireframes to fully interactive prototypes in minutes.
XD essentially allows professionals to manage and prototype application or mobile web design workflows from a single app, and intuitively link pages without the need for programming or a vast degree of in-depth application knowledge.
It also has features that let you sync multiple elements of a creative project from one tap, called repeat grid.
For example, when designing a mobile application, you can use XD to change the font or the colour/location of a particular element on one page of the application, and that will then carry through to every other page, saving time individually changing pages to match a theme.
It also has a Desktop preview built into the application, allowing you to test mobile apps or websites using a 'virtual' smartphone or mobile device.
As well as this, users can download the XD app on their phones to test it for themselves on the appropriate hardware, or share a link with others so they can test it.
Adobe Dimension
Previously known as 'Project Felix', Adobe says Dimension enables graphic designers to quickly create and iterate on photorealistic 3D images to realize branding and packaging designs in real-world settings.
This app is certainly an interesting one and could prove quite beneficial to designers who need to create 3D mockups of their work quickly, easily and in a way that is realistic.
It will save time using separate applications to create mockups, as it is integrated with the rest of Adobe suite, and 3D models can be sourced from Adobe Stock.
This essentially means you can use projects from Illustrator, download a 3D template from Adobe Stock and combine them by adding your project to the template.
You can then use Dimension to choose a background, add lighting elements, change the camera angles and render the entire project.
It will then create a photoshop file that includes automatically generated layers, so you can change elements of a 3D project in photoshop after it has been rendered by Dimension.
Adobe Character Animator
Also previously in beta up until today, Adobe says this 2D animation tool helps bring still image artwork from Photoshop or Illustrator to life.
New features include pose-to-pose blending, new physics behaviours and visual puppet controls.
Adobe Sensei also helps improve lip-sync capability by accurately matching mouth shapes with spoken sounds.
New Adobe Lightroom
Adobe also announced a brand new Lightroom application for desktop and mobile.
This release is a new standalone Lightroom application, and will be available in conjunction with the current Lightroom, which will now be called 'Lightroom classic'.
The new application features a completely redesigned interface and is integrated with Adobe Sensei to deliver smart AI and machine learning driven features not previously available in Lightroom.
The new Lightroom is cloud-based, providing scalable storage options for secure cloud backup of high-resolution images and raw files.
It uses Adobe Sensei in quite an interesting way, allowing users to search for specific things like cars, people or children, and Lightroom will automatically detect and provide relevant images from a user's entire library, without the needs for tags on photos.
It's also integrated with all Lightroom applications on any device, meaning a change to a photo on mobile will automatically change the photo on all devices.
They also emphasised an increased feature set on the Mobile platform, with functionality that is more in tune with the desktop application
It's designed to make the process between taking, editing and publishing photos much more seamless and easy for photographers.