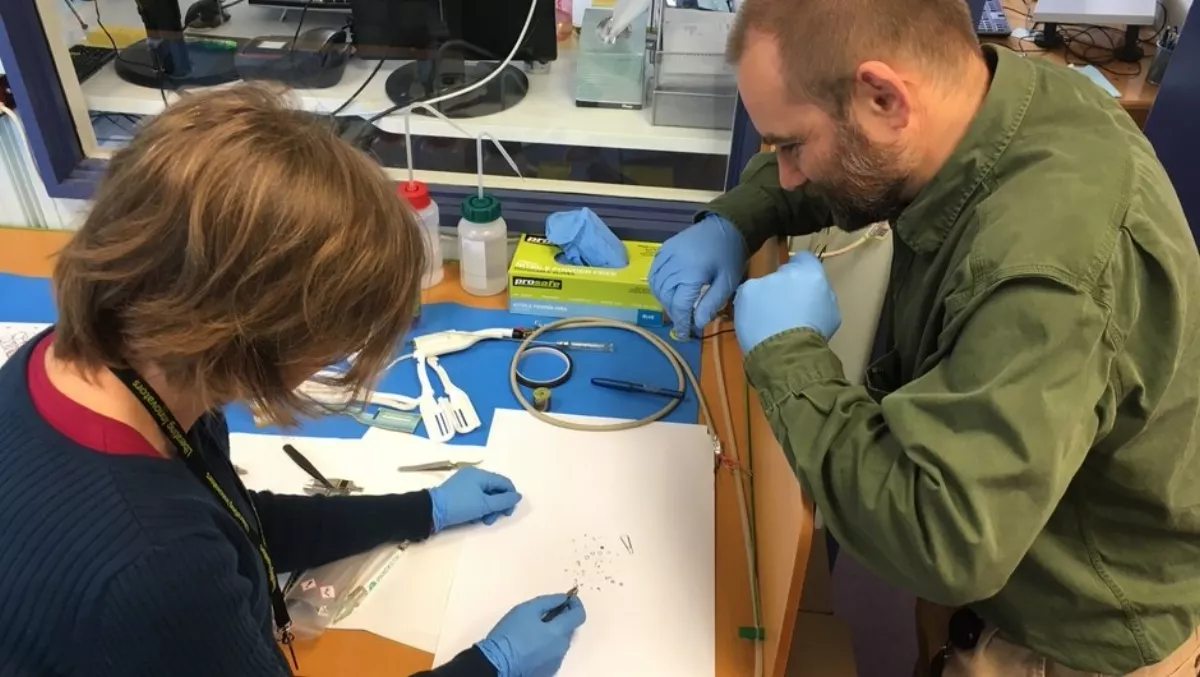 MicroMaker3D's tiny 3D printing tech is 'game changing'
FYI, this story is more than a year old
Imagine 3D printing things thinner and smaller than a human hair, and how they could be used in everything from sensors, electronics, wearables and meshes.
That's exactly what a team from Callaghan Innovation is unveiling over in the United States this week, created by microfabrication researchers Andrea Bubendorfer and Andrew Best.
They are part of Callaghan Innovation's MicroMaker3D team who have invented a new way of fabricating ting things with Laminated Resin Printing (LRP).
LRP is a fast, easy and affordable way for industry and researchers to create a range of printed structures that could be integrated into electronics, wearables, IoT devices and much more.
It enables developers to print submillimeter structures with complex geometries of up to 100 per cent density, in extraordinary low-layer thicknesses and with imaging speeds as quick as one second per layer independent of complexity or density.
"3D printing has transformed how we make things, but it can't operate on the small scale needed for microfabrication," explains Bubendorfer.
"We set out to develop ways to make microfabrication more accessible and are proud to have created a new technology that addresses the significant need for rapid prototyping on the microscale. And by small, we're talking five microns. For context, a human hair is about 100 microns."
The MicroMaker3D project was born when Bubendorfer received funding from the KiwiNet Emerging Innovator Programme.
The project has attracted a further $684,000 of funding from KiwiNet (PreSeed funding) and has had strong Callaghan Innovation support, as well as other investment interest.
KiwiNet CEO Dr James Hutchinson adds that there are many drivers for miniaturisation, particularly as smaller devices use fewer resources, less power, and they are lighter.
"With the emerging Internet of Things, the ability to 3D print microstructures for tiny sensors will open up a huge new avenue of commercial possibilities. We're very pleased to have supported Andrea and the team on their commercialisation journey to date, and are excited to see them build a base of industry development partners."
Bubendorfer adds that the team is keen to explore applications and possibilities in custom sensors.
"One high value approach would be to use molecular sensing to functionalise microstructures, so we could rapid prototype devices for detecting insulin concentration, biomarkers, presence of toxic gases or pollutants. There are endless possibilities to what we can print - and what is most exciting, though, will be when people start to print things we didn't even know existed."
According to senior business development manager Cath Andrews, LRP could be applied to a number of high-tech industries, including aerospace and medical.
"This is a game changer where high-resolution, size, weight and durability really matter. With the global miniaturisation megatrend underway, there is a rising demand for smaller components and detailing," Andrews comments.
The MicroMaker3D team is one of ten exhibitors who will showcase their work at IDTechEx's Santa Clara Launchpad.
"The IDTechEx Launchpad is an ideal forum to talk to developers and innovators with a need for prints with high-resolution features and to talk with industry players interested in discussing the commercialisation potential of LRP technology," Andrews concludes.
Related stories
Top stories