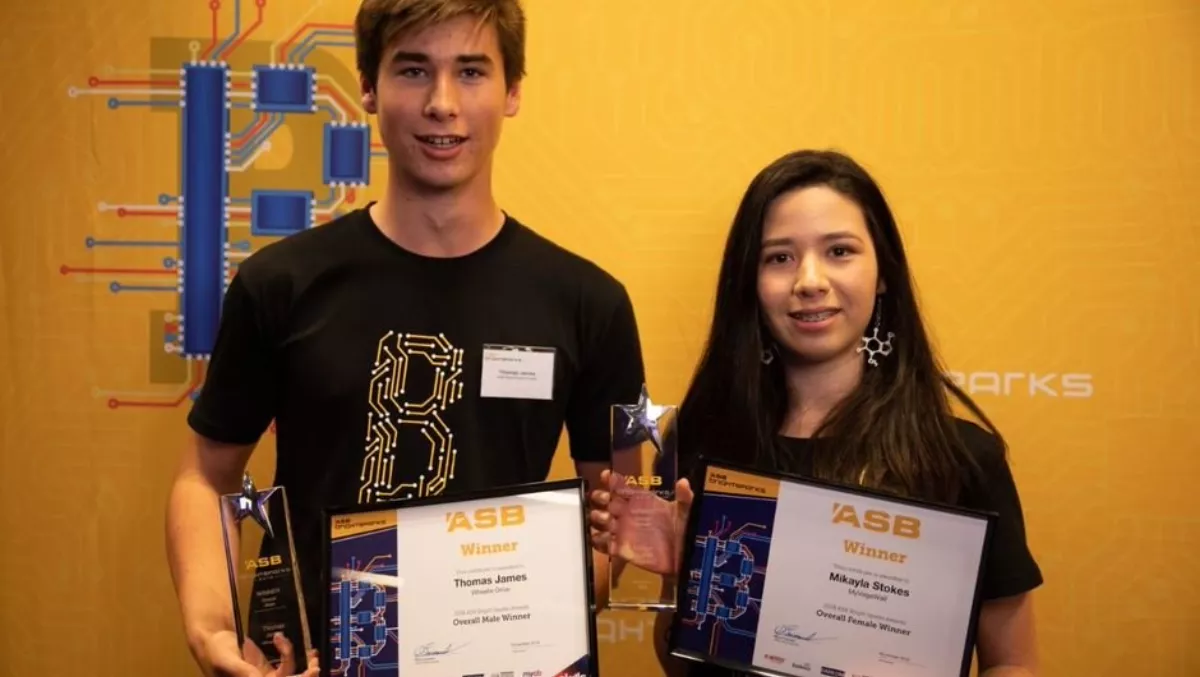 NZ: A nation of bright sparks and young inventors
FYI, this story is more than a year old
Remember their names: Mikayla Stokes and Thomas James could well be New Zealand's next greatest inventors.
Seventeen-year old Mikayla and 15-year-old Thomas were crowned Overall Female Winner and Overall Male Winner respectively at this year's ASB Bright Sparks Awards.
Stokes, from Western Springs College in Auckland, is no stranger to the award – she also won it back in 2016.
This year she created MyVegeWall, an automated vertical garden that monitors nutrients and water levels.
"My goal is to make healthy eating more accessible and convenient for busy families in today's world," Stokes says.
"With our modern, fast paced lifestyle, I wanted to create something that was sustainable, low maintenance, nutritious and convenient. All users need to do is plant and then download the app via a smartphone, it's as low maintenance as gardening could possibly be.
Thomas James gained the inspiration for his invention after his elderly neighbour was unable to take her wheelie bin out without risking a fall.
James created an automated self-driving device that takes a wheelie bin out to the kerb so people don't have to do it manually.
"My elderly neighbour was told by her doctor that there was too much risk of her falling if she took her wheelie bin out by herself, this was my inspiration to create the Wheelie Drive, an autonomous robot that takes care of your wheelie bin for you," James explains.
"It solves a problem, not just for the elderly or disabled but for a lot of people who may have an issue with taking their wheelie bin to the curb, for example if you are away from home that day, you simply forgot or if you have a beach house. It also helps with security as when a wheelie bin is out for a few days it becomes obvious that the people are away.
The ASB Bright Sparks Awards also recognised outstanding inventors in engineering, home technologies, design innovation and other categories.
"This year's winners and finalists should be extremely proud of what they have achieved. It's truly inspiring what New Zealand's future leaders are creating, especially when you take into consideration their ages," says Skills chief executive Garry Fissenden.
ASB's head of innovation and commercialisation Leigh Angus adds that ASB is proud of all students who entered this year.
"Many of the students' inventions are clever solutions for challenges they come across in their day-to-day lives and we are always very impressed with their huge creativity, but this year's winners certainly stand out.
Full list of winners:
Overall Female – Mikayla Stokes, Auckland Overall Male – Thomas James, Christchurch Senior Hardware Engineering – 1st Thomas James, Christchurch, 2nd Mikayla Stokes, Auckland, 3rd KaiXuan (Tim) Cheng - Alex Zhuang, Auckland Junior Hardware Engineering – 1st Kate McIntosh, Auckland/Genevieve Cartmell, Auckland ,2nd Alia Cauty, Auckland, 3rd Oscar McCartney, Queenstown Senior Software Engineering – 1st Eric Song, Christchurch, 2nd Hsin (Vincent) Lee, Christchurch, 3rd Emma Hogan, Wellington. Junior Software Engineering – 1st Zeb Healy, Taranaki, 2nd Alia Cauty, Auckland, 3rd Maia Cully, Auckland. Special Applications Agritech – Mikayla Stokes, Auckland Design Innovation – Pieter Douglas, Auckland Health - Wellbeing – Genevieve Cartmell, Auckland Home Technologies – Bastien Gelin, Christchurch Best Mobile Application Emma Hogan, Wellington/Mackenzie Parker, Canterbury Best Video Production – Angus Lynch, Auckland Bright Sparks Emerging Potential Bert Downs, Te Awamutu People's Choice – Emma Hogan, Wellington