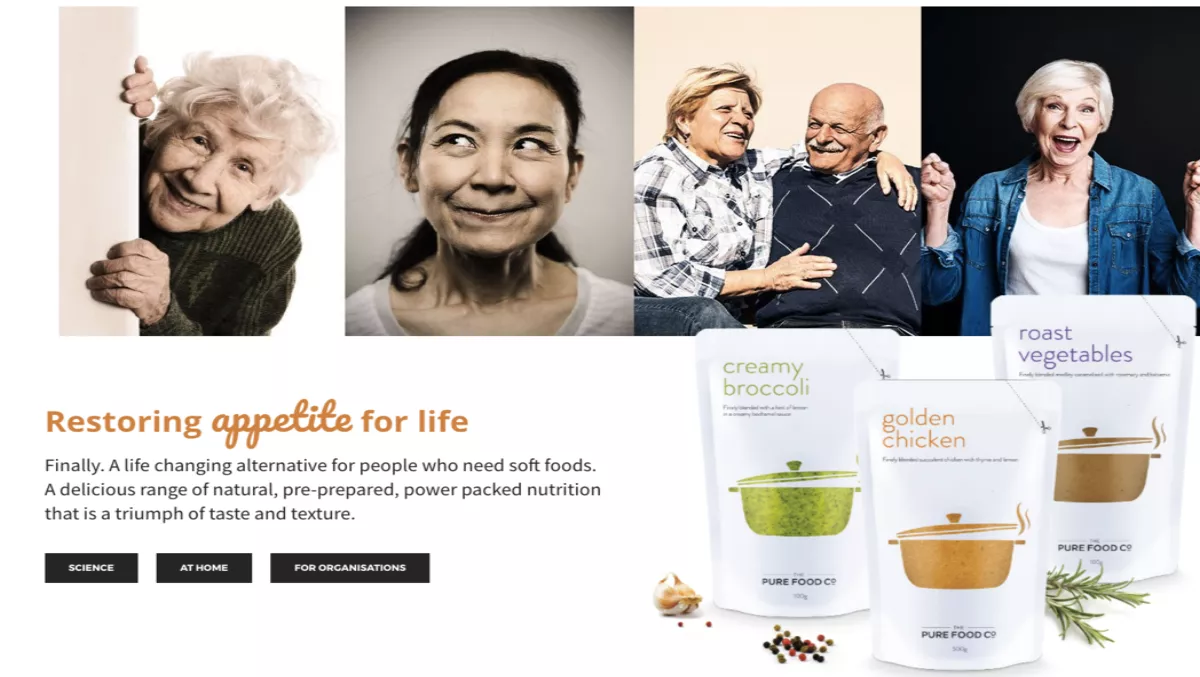 The Pure Food Co opens Auckland manufacturing facility to support growth
Thu, 10th Aug 2017
FYI, this story is more than a year old
Rising New Zealand consumer production company The Pure Food Co has opened a new manufacturing facility in Auckland.
The Pure Food Co, rated one of the rising stars in the latest Deloitte Fast 50 Index, is ramping up opportunities after building their own production plant in Mt Wellington.
Pure Food founders Sam Bridgewater and Maia Royal have spent the last three years growing their food business at Auckland's food innovation incubator The FoodBowl.
They reached the point where they had enough investment to build their own 600 square-metre manufacturing facility to fulfil their goal of supplying every hospital and aged care facility with high quality pureed food with clinical benefits.
The FoodBowl accelerates or incubates clients' progress so they can develop and prove their worth to investors to back them to build a new plant so they can start their own independent production.
Pure Food produces pureed food predominately for the growing elderly population or anyone in need of better nutrition.
Bridgewater says the new factory is future-proofed so they can grow about 15 times without needing to move.
This will allow them to expand throughout the rest of New Zealand and start to explore export markets.
With support from partners, Bridgewater and Royal established The Pure Food Co after watching a family member suffer from swallowing difficulties.
The business is a personal quest to bring food to people with eating difficulties, providing meals into the aged and healthcare industry nationwide.
To begin with, Bridgewater and Royal didn't have the technology and manufacturing skills to produce their texture modified products, so the FoodBowl was the perfect first step for them to trial and iterate development of their products.
"We started in a small room to get proof of concept and samples in the market then jumped up to a large room doing multiple 700kg batches as the demand grew, eventually getting to 2 tonnes per day.
"The FoodBowl helped by bringing in new bits of equipment for us to trial and scale up with," Bridgewater says.
"The benefit was a wide range of technologies under one roof for us to assess within our production line. It meant we didn't have to spend a lot of money on pieces of equipment that we might not actually need down the line.
"Being under constant scrutiny from The FoodBowl pushed us to take it to the next level. We now have successfully commissioned a new plant within time and budget that exceeds MPI's regulatory standards.
Bridgewater says they couldn't have done things as fast without the assistance of The FoodBowl.
"They have introduced us to some of our suppliers like our packaging and machinery that we are working with now in our new factory.
"It was a perfect stepping stone for us and drove us to reach new standards and scale to ensure we were well equipped to make that leap out on to our own.
The Pure Food Co is now providing close to 40,000 meals a month and has landed large clients such as Ryman and Compass Group who cater to hospitals.