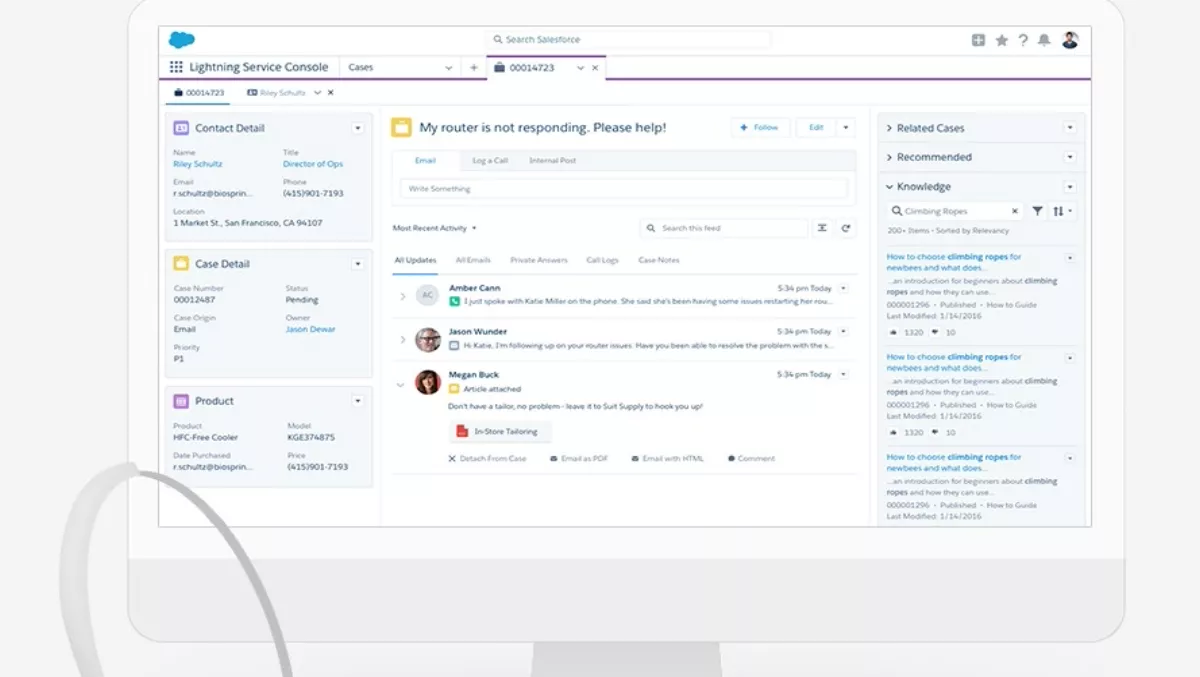 Salesforce Service Cloud goes next-gen with mobile apps & learning platform
FYI, this story is more than a year old
Salesforce is taking the next generation of its Service Cloud to customers this week, adding more customisation and an interactive learning platform, as well as iOS and Android support to the mix.
Service Cloud is built upon Salesforce Lightning component-based framework, which means users can easily configure and set up Salesforce Cloud in one day.
Customers are now able to include Lightning-ready partner applications and Lightning Application Builder for Service to further empower and boost agent productivity.
The company has created a free interactive learning platform, called Trailhead, to help users deploy and customise Service Cloud.
The company developed Service Cloud to capture consumer demand for fast and personalised experiences through their preferred channels.
However, not all companies were not able to provide those experiences – in part because they have legacy systems that cannot adopt modern channels or improve them.
For smaller companies, it means they often have to make tradeoffs between immediate needs and those that can scale for future growth.
"Every company recognises the importance of providing good customer service. But for smaller companies, setting up a new contact center is often overwhelming and for bigger companies, they are often constrained by old, legacy systems," comments Rebecca Wettemann, VP, Research at Nucleus Research.
"With today's announcement, Salesforce is making it much easier for companies all sizes to provide differentiated service," she adds.
New ServiceCloud features include:
Service out-of-the-Box allows companies to build a modern customer service centre in one day. Service Cloud features pre-built case management and a setup that is handed with clicks, not complex code. Service admins are able to connect to social media channels and a customer community.
AppExchange and Lightning App Builder for Service Cloud is able to provide customer service teams with a simple way to customise and extend Service Cloud.
Lightning App Builder enables users to drag and drop Lightning Components, such as the knowledge sidebar, into Service Cloud. There are more than 75 partner apps on the AppExchange that can also work with Lightning, including IoT asset tracking from MapAnything Live and patient education from Healthwise.
Lightning Service Console is able to improve the speed and experience involved in case management.

Case Kanban shows a visual dashboard of cases and their places in queues
Community Agent 360 provides context surrounding a customer's history, such as reading a community article or commenting
Federated Search allows for better record discovery across external sources like Dropbox and Confluence
Macro Builder allows agents to create reusable macros for customer service scenarios that occur frequently
Service Cloud is also available as a native mobile app for iOS and Android so that agents can personalise customer service anywhere, anytime.
"Service Cloud is the market leader because of our unparalleled track record of innovation," comments Mike Rosenbaum, EVP, CRM Apps at Salesforce.
"The flexibility of Salesforce Lightning and the Service Cloud platform enables us to move quickly and break down technological barriers, so our customers can focus on what matters most for them—delivering truly differentiated service to their customers.
Pricing and Availability
Service Out-of-the-Box, Lightning App Builder for Service, Lightning Service Console, Federated Search and Case Kanban view are generally available today at no additional cost with any edition of Service Cloud.
Community Agent 360 is available today in pilot at no additional cost with a Customer Community Cloud license.
Macro Builder is expected to GA in the second half of 2017 at no additional cost with any edition of Service Cloud.
Service Cloud Mobile app for iOS and Android is expected to pilot in the second half of 2017 at no additional cost with any edition of Service Cloud.