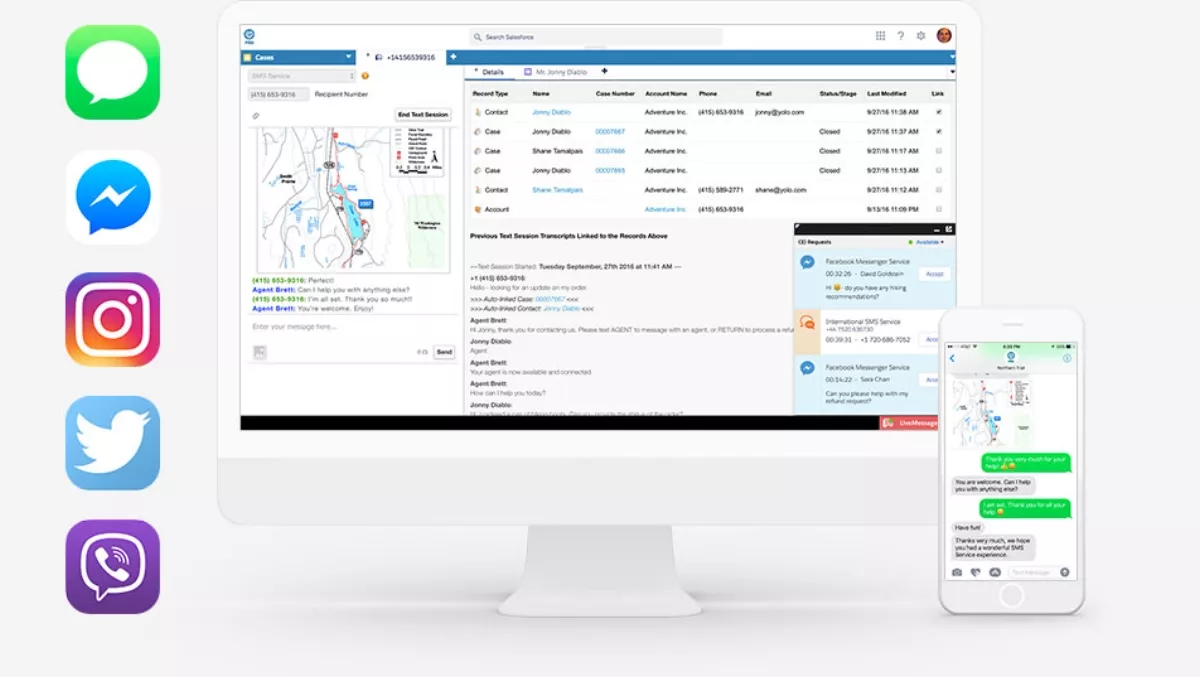 Salesforce's new LiveMessage and Service Bots to deliver ultimate customer service
FYI, this story is more than a year old
Salesforce is ramping up its conversational tools across social media and messaging apps, with the launch of LiveMessage for Service Cloud.
The new service, delivered through Salesforce Service Cloud, will allow companies to engage with customers through popular messaging apps such as Facebook Messenger, SMS and MMS.
Salesforce EVP of CRM Apps, Mike Rosenbaum, says mobile messaging apps are changing the way customers interact with businesses - now customer service is in their hands.
Salesforce says that 80 billion messages are sent every day. The number is growing as consumers desire faster and personalised communication.
"LiveMessage seamlessly blends CRM and mobile messaging in an intuitive way that's easy for companies to deploy," Rosenbaum says.
LiveMessage allows customers to integrate Messenger or SMS to their existing customer service phone numbers. The messaging services can be up and running within one day. For example, a customer with a question can text the issue to the customer service number, or directly on Messenger.
A customer service agent can then access customer records from Service Cloud and respond quickly and easily. The conversation record is retained, so if the customer has more questions, the conversation can be picked up at a later time.
Service Cloud Bots can automate routine tasks such as data collection and simple FAQ, while agents can take over the more complex tasks. For example, a retailer could deploy Service Cloud Bot to gain customers' names, addresses, emails and issues that they were contacting the store about.
If the customer has a simple question, the bot can answer automatically. For more complex tasks like changing shipping orders, Service Cloud's omni-channel intelligent engine can send all details through to the available customer service agent.
Third party bots, known as bring your own bot, allows users to easily connect existing bots using the LiveMessage API for a BYOBot. These bots can be used in a variety of ways, for example a hospital scheduling bot could be used to book annual checkups for patients. If there are issues, the conversation can be routed to the best agent using omni-channel intelligent routing.
Salesforce states that for the past eight years, it has been at the forefront of customer service shifts, including those such as social, in-app service, live video and more. Messaging is the next step in the process, and Salesforce says this is the new industry standard.
LiveMessage is integrated with Salesforce's entire Customer Success Platform, allowing users to choose which messaging apps they want to deploy. The conversations are seamlessly aggregated into the Service Cloud Agent Console.
Jeremy Barton, Messenger Partnerships, Facebook, says its platform is a key player in customer service interaction.
"With over 1 billion people using Messenger every month, the Messenger Platform is becoming a go-to channel for businesses to connect with their customers and drive outcomes from raising brand awareness to providing excellent customer service. LiveMessage allows any company using Salesforce to seamlessly integrate Messenger conversations directly into their CRM, unlocking enormous potential for people to interact with brands they care about," Barton says.
LiveMessage is now generally available. Pricing starts at $75 per user per month for a single messaging type. Organisations need to have at least the same number of Service Cloud licenses as LiveMessage licenses. LiveMessage is currently available on Salesforce Classic and is expected to be available on Salesforce Lightning in the second half of 2017.
LiveMessage support for Messenger and SMS/MMS is generally available as of December 13, 2016
Service Cloud Bots are generally available as of December 13, 2016 as part of the LiveMessage license.
LiveMessage API is currently in pilot and is expected to be generally available at no additional cost in Summer 2017.
Related stories
Top stories