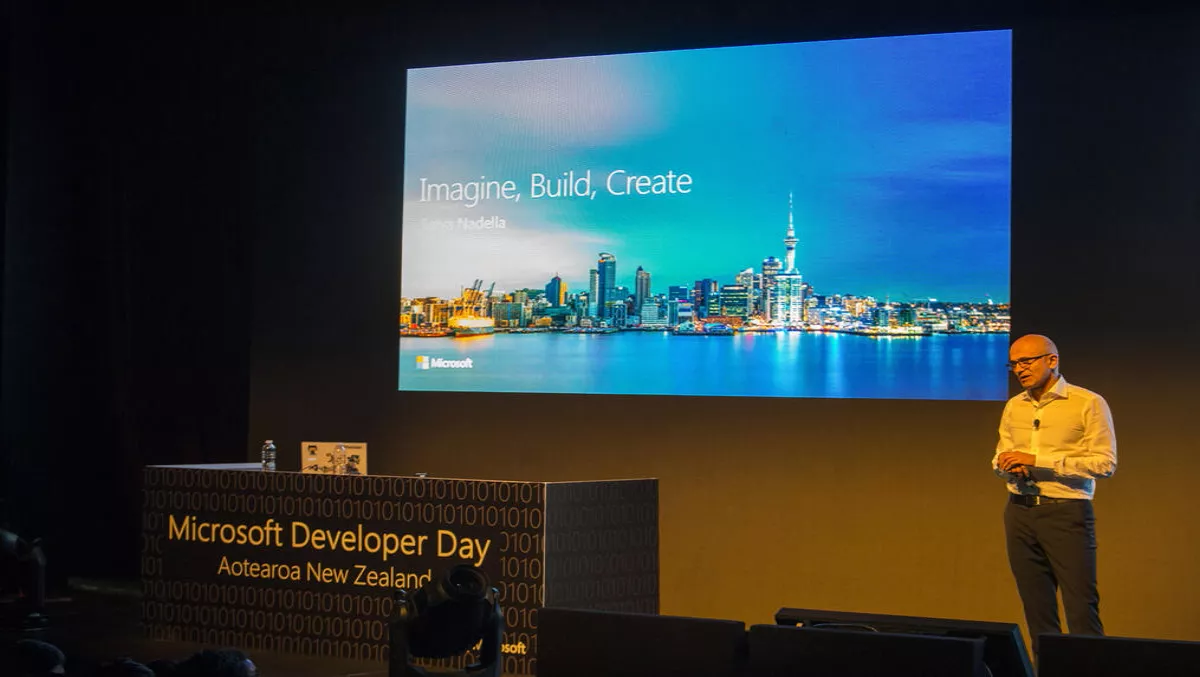 Satya Nadella reveals Microsoft's 'completely new world'
FYI, this story is more than a year old
"One thing I've learned over my 25 years in Microsoft, is that each generation is defined by applications that developers like you build."
Microsoft's CEO, Satya Nadella, addressing an audience of developers and partners at an event in Auckland today, shedding light on the future vision of the company and its developers.
"Whenever I think about what is Microsoft's core sense of purpose, it always starts by thinking about developers and what developers can do," he says.
"Our mission, which we talk about all the time, is about empowering every person and every organisation on the planet to achieve more. For us it helps guide the choices we make, the products we build, the way we build them."
Nadella explains that at Microsoft, they think about technology and its global reach, global access and global impact.
"Perhaps most importantly, it is not ultimately about our technology, it's about what others can do with our technology," he says.
"When you talk about it in that sense that's probably where developers are the most interesting."
The CEO explains that Microsoft's world view is shaped by the fact that every business going forward is going to be more and more of a digital business.
"There isn't a retailer, a healthcare company or a manufacturer who thinks of themselves as just purely in that industry. They're increasingly going to have digital content," says Nadella.
"That creates an amazing, amazing opportunity. It also creates responsibility for each developer to have a much deeper impact in our economies and our societies."
For the future of tech and developers, Nadella explains that there will be increased levels of business process automation.
"What you need is a very different approach than the old world of CRMs to be able to meet the needs of increased automation - and that's what we're building in Dynamics 365," he says.
"The approach we're taking with our SAS applications is perhaps a place where our developers can get the most leverage and the most market reach in terms of Microsoft platforms."
Among the announcements, Nadella highlights the fact that Microsoft has built out its cloud with more data centers in regions than anyone else.
And because of this, he says trust is hugely important.
"We respect the different digital sovereignty needs of countries, regulatory needs of industries and fundamentally make it possible for businesses to trust the cloud," explains Nadella.
"When you think about what you as developers can do, we are starting a completely new world that can change everything. We are very excited about what developers can do when you have the ability to create."
He adds that in the next 10 years, our world is going to be defined by technology, ushering in the next generation of creation.
"To me that's what we're in pursuit of with things like the Surface Studio, developers like yourself imagining what you can do with creation software and creation tools," says Nadella.
"When we think about technology and what changes we aspire to make, it is that broad impact that drives us - making a real difference."
The CEO then left the audience in awe with his 'fundamental call to action'.
"Every one of you can not only dream the future or dream of the most impossible thing, but perhaps in this age where digital technology is so pervasive; you can realise the future that you dream of."
Related stories
Top stories