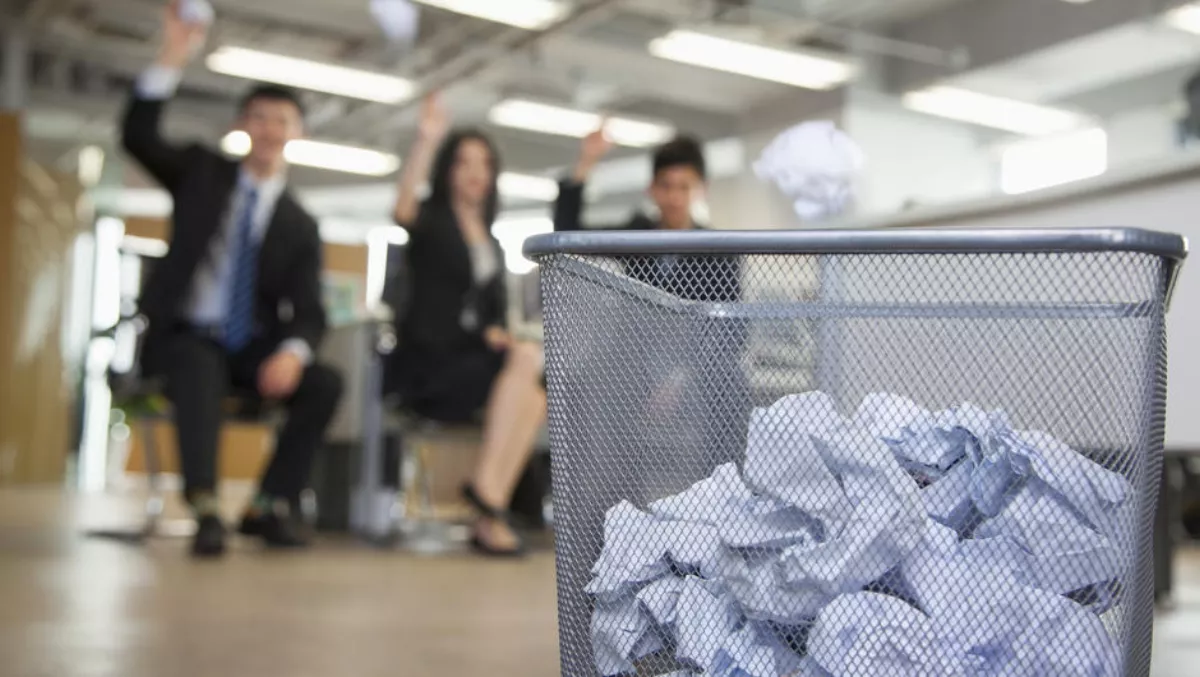 Six reasons you need to ditch paper processes and move to digital
Thu, 23rd Aug 2018
FYI, this story is more than a year old
Businesses on the road to digital transformation may be looking at that stack of papers and considering how they would put them to better use, with many companies already in the process of digitalisation.
That's according to Y Soft, which believes that businesses yet to embrace paperless processes or those that only use them in part of their business need to move fast to reap the benefits of digitalisation and technologically-evolving workflows.
The company says that paperless, cloud-based systems allow businesses to reduce or even eliminate human involvement in the repetitive, document-intensive activities.
Automated workflows also offer cost and time savings, as team members are no longer wasting time filing, sorting, and searching for documents.
Y Soft Australia's managing direct Adam O'Neill explains:
"Manually scanning and storing documents is complicated and time-consuming, and prevents businesses from realising process and cost efficiencies. Automated workflows let users scan, classify, and source files all in one click. This improves accuracy and removes the need to manually format and save documents in the right location."
Y Soft believes there are six key ways in which paper-to-digital workflows can help businesses:
1. Quality and accuracy. Businesses can reduce the risk of human error compromising file storage and confidentiality by using fully automated workflows that manage documents precisely according to predefined rules.
2. Consistency. A good quality automated workflow scanning solution consistently categorises files and documents in specific, logical locations, so users can find them when they need them. This can help make frontline and back office staff more efficient, leading to a more consistent customer service experience.
3. Compliance. Unlike humans, automated systems won't cut corners or take risks. When systems are set up correctly, all documents and processes adhere to industry standards and external policies. There's no need for managers to monitor staff for confidentiality breaches, or to worry about legal or auditing conditions when workflows safely and legitimately manage all files.
4. Fast processing. Even large-volume scan jobs can be performed easily using a digitalised workflow. This significantly enhances workplace time management and efficiency, and ensures that even high quantities of documents are centrally stored and searchable in the cloud, saving time and effort.
5. User friendly. Changing to a digitalised workplace can be challenging, and it's important that new automated processes are open and accessible to all staff regardless of experience and background. Workflow solutions should offer users and administrators simple transitions from paper to digital. It's important that new workplace technology doesn't alienate staff but, instead, supports and complements their work.
6. No more physical storage. Automated workflows store scanned documents in the cloud, saving paper and space. Files are viewable and accessible onscreen at any time, from any location, and important documents can no longer be physically misplaced or damaged.
"By 2025, automated scan workflows will be successfully assimilated into a diverse range of workplaces, O'Neill says.
"It's important that today's businesses capitalise on the significant advantages automated workflows can bring them, so they aren't left behind in the future dynamic workspace.