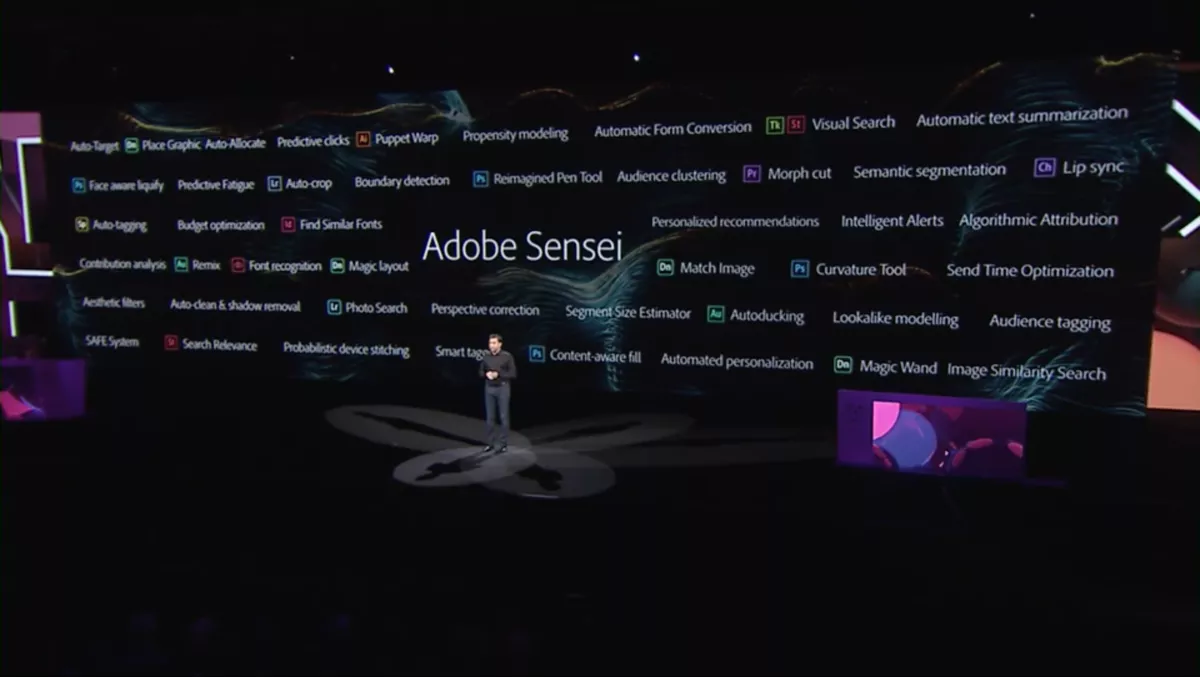 Six ways Adobe is changing the game with machine learning
FYI, this story is more than a year old
One of the big innovations at this year's Adobe Max conference was undoubtedly what the company is doing with its Sensei AI and machine learning platform.
Sensei was officially unveiled last year, and since then Adobe has been hard at work integrating the AI platform into multiple different elements within its creative cloud suite.
It has been a big part of the investment for Adobe, who says that the platform will enable users by harnessing the collective power of the design community to cut out menial tasks and increase productivity.
Here are six ways that Adobe is really innovating with the Sensei platform.
Smart search features
One of the more interesting features in Adobe's new Lightroom application is its organic search capabilities.
Lightroom has incorporated the ability to search through your photo library with key terms like 'car' and 'child', and automatically recognise relevant results.
Adobe Stock has also incorporated Sensei for searching content with the ability to drag and drop photos onto Stock, which automatically recognises what is in the image, and providing similar results.
Users can then tweak this further with Sensei, to adjust the depth of field and 'vivid colour' aspects of search results, allowing for a tailored and intuitive approach to the searching for images.
Facial recognition
Related to the search features, Adobe is also working on facial recognition for Adobe Sensei, which uses the characteristics of a person's face to provide an easier way to find the right image for a project.
This was demonstrated as an upcoming feature in Photoshop, where a subject's face could be organically substituted for an image in which they're looking in a different direction to better suit the project.
Sensei was able to recognise the person's face within the photo library and provide options in which she was looking in other directions.
In Character Animator, Sensei also powers face tracking as well as providing improved lip-sync capability by accurately matching mouth shapes with spoken sounds.
Typeface recognition
Adobe Capture added a pretty useful new feature - powered by Sensei - called Typecaster.
Typecaster essentially allows users to take photos of any font they find in the real world and send it to creative cloud, where Sensei finds similar typefaces and displays them for use.
Creative Graph
Creative Graph is a fantastic new feature coming soon for Photoshop that lets users see a visual timeline of their projects and actually go in and edit things that they did at certain stages of the project.
Essentially this allows users to look at certain stages of the project's development, and edit changes they made at that specific time, to sync it up with the later - or final - stage of the project.
This will ease a lot of pain points for creative professionals who might want more control over the edits they make over certain stages of a project, and its delivered in a straightforward way for ease-of-use.
Native app integration
Sensei isn't only being integrated into the background of the Creative Cloud, Adobe also showcased how the company is working on integrating Sensei right into photoshop as somewhat of an assistant.
In this deployment, Sensei can provide supplementary information on images or objects within a project or drawing.
They demonstrated an example where a drawing featured a woman, stars and a spaceship, which Sensei recognised and displayed, as well as other associated key terms like 'galactic' and 'flying'.
Users can then leverage this information and ask Sensei - which acts as a virtual assistant - to find similar images, and Sensei then provides an array of differing content from a users library, and Adobe Stock as well as templates, presets, swatches and similar search terms.
This content can be drag and dropped straight off of the Sensei side panel into the project, and you can then use stock to find a more appropriate, but similar image if need be.
Research and Development
Adobe has come out in force with their commitment to Sensei at Max 2017 and says it is actively working with the creative community to deliver an ongoing approach to developing the platform going forward.
The company is investing in the sort of AI and machine learning technologies that are becoming imperative in almost every aspect of modern IT, and it's an interesting area that promises a great deal of growth.
As Adobe aims to incorporate Sensei into every Creative Cloud, they show no sign of reducing investment going forward, and it will be undoubtedly interesting to see how Sensei evolves over time.