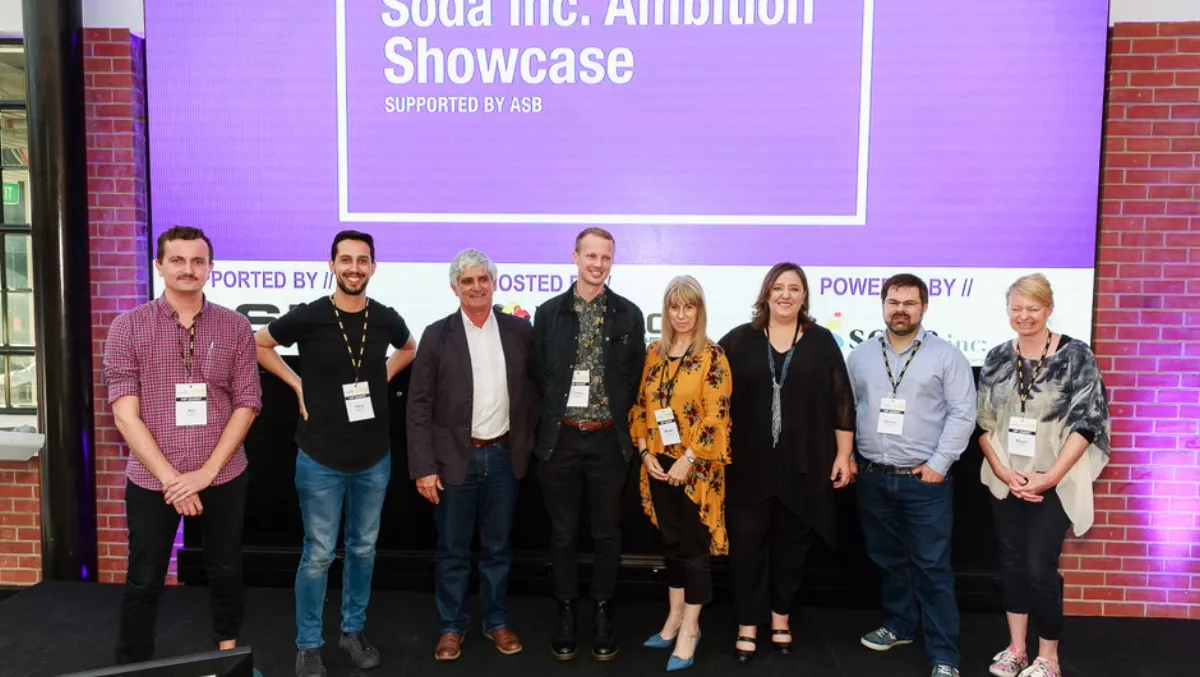 Soda Inc celebrates Kiwi entrepreneurship
Thu, 22nd Nov 2018
FYI, this story is more than a year old
200 entrepreneurs gathered in the Wintec Atrium this week to celebrate their journeys at Soda Inc's Ambition Showcase.
The event featured speakers including serial entrepreneur Jenene Crossan, who says that we expect entrepreneurs to do well with little room for failure. Instead, we should value prioritisation over simply 'being busy'.
"Ninety seven percent of what you are holding on to as a founder can be delegated – the other three percent is what you bring that no one else can and is the secret source of a true entrepreneur. When it stops being fun, don't do it. Happiness is number one," she says.
Industry professionals from Dynamic Media, MediaSense, Minter Ellison and Motion Sickness also held workshops with participants.
Hal Josephson, the Founder of MediaSense, spoke about strategic planning for startups in the first workshop.
"I think the customer is the most important thing when it comes to building your startup company. You never want to sell sizzle without steak," Josephson explained.
The second workshop, run by Motion Sickness' Hilary Ngan Kee and Sam Stuchbury, looked at digital marketing strategies.
"If you can't explain to someone exactly what you're about, you need to clarify in your own mind what you are trying to do," Stuchbury said.
He added that nobody loved your brand as much as you did, so it was key to be authentic and appealing to your customers to make them care.
Cameron Taylor from Minter Ellison's Cameron Taylor provided a rundown of capital education. He pointed out that there are many sources of capital, so entrepreneurs need to figure out which ones are right for their business. Taylor also discussed the differences between debt or equity funding.
"You need a compelling pitch [to secure capital and] cut through the rest of the noise to come out on top of the pile," Cameron said.
Dani Simpson from Dynamic Media said the best way to share stories with mainstream media is to think about who to target, do research, make it personal, and understand the target journalist.
As part of the showcase, entrepreneurs shared their experiences. One entrepreneur was Rickus Wiehahn, who created a startup called Offload app with cofounder Ben Hawken.
"Our idea was pretty simple, if everyone knows what you're good at, when you're available, where you're willing to go, and what you charge, they could just call you and you could just roll up and do the work and the world would just be an easier place," Wiehahn said.
They initially had no money or no idea how to build an app that could make their idea a reality, but they soldiered on.
"Aiming for everyone is pretty much aiming for no one, we had to refine our audience," commented Wiehahn.
"The biggest growth we've had over the last year was not from the times we got it right, but from the times we got it wrong," added Hawken.
The event ended with a graduation ceremony that celebrated those who have worked with Soda Inc's business incubator throughout 2018. The graduates include:
Darren Bainbridge from MyApiary based in Hamilton, a Soda BOOST graduate Callaghan Innovation Grant Recipient Brian Russell was his Business Growth Mentor
Nigel Dickinson from Kirkyl based in Te Aroha, a Soda BOOST graduate Callaghan Innovation Grant Recipient David Anderson was his Business Growth Mentor
Michele Connell from Off the Beaten Track based in Hamilton, a Soda LIFT Graduate Callaghan Innovation Grant Recipient Murray McCaw was their Business Growth Mentor
Maggie Mitchell from Departure Lounge Caskets based in the Waikato, a Soda LIFT graduate Callaghan Innovation Grant Recipient Rick Wells was her Business Growth Mentor
Ben Hawken and Rikus Wiehahn from Offload App based in Hamilton, Soda LIFT graduates Callaghan Innovation Grant Recipient Ali Grigg was their Business Growth Mentor
Torbin Chambers from Journeys based in Hamilton, a Launchpad graduate Wintec Foundation Grant recipient Kelvin Soh was his Business Growth Mentor
Natashia Lucas from FareShare based in Tauranga, a Soda -amp; VC LIFT graduate Callaghan Innovation Grant Recipient Malcolm Rands was her Business Growth Mentor