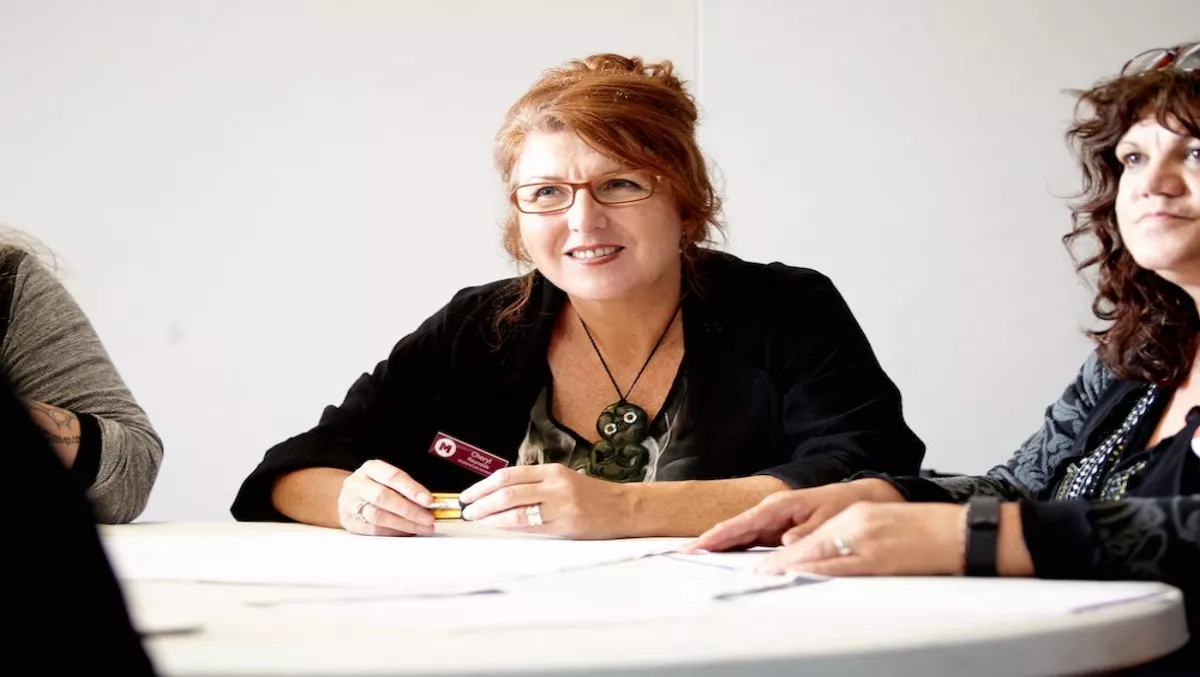 SODA Inc founder joins EHF fellowship, starts philanthropic venture
FYI, this story is more than a year old
Article by Edmund Hillary Fellowship content and communications lead Alina Siegfried
EHF Fellow Cheryl Reynolds's mission is to create change, creatively, with a strong optimism and belief that we all have the power to change the world for the better, and that we all need to do so urgently.
Reynolds grew up in London in the 1960s to Irish parents, and she dreamed of learning to fly. As a pathway to becoming a pilot, at the age of 16, she enrolled as an apprentice aeronautical engineer — one of just two girls among 200 boys on the UK's apprentice engineering programme.
At 17, she realised that she wasn't meant to be an engineer and that her creativity warranted something that would allow her to express her talents.
She switched to an arts apprenticeship.
At 18, Reynolds's parents lost their London Irish pub business, and in doing so, they lost their home.
Additionally, with her Father's failing health, Reynolds gave up her arts apprenticeship to take on two office jobs to pay the family rent.
At 19, her Father died, resulting in Reynolds and her Mom moving into a homeless hostel where they lived for nearly a year.
With an inherent resilience and capacity for endurance, at age 21 Reynolds decided to reboot her life.
She went to university, excelling at both an undergraduate degree and a Masters of Fine Arts.
She also won a place on the UK's post-grad entrepreneurship programme and learnt the fundamental skills she needed to know about starting up and running businesses.
At 25, Reynolds started up her first UK venture, Focal Point Gallery, a highly-energised contemporary public art gallery, which is thriving to this day.
Reynolds says her second startup, a nightclub, was unwittingly built on a social enterprise model — aside from having some fun, its purpose was to provide her with an income so she could run the non-profit art gallery for little return.
Before leaving the UK, Reynolds went on to run an internationally-renowned contemporary art gallery, Impressions Gallery, lead a global technology company Antenna International, and start up other for-purpose ventures built on social enterprise models.
Reynolds moved to New Zealand in 2003, and since then has established herself as a leader in our entrepreneurship and innovation ecosystem.
Working in Hamilton, she noticed immediately the lack of a place for entrepreneurs and creatives to come together.
She founded SODA Inc as an entrepreneurship hub and award-winning business incubator programme.
"There was a gap, a real need for a focus on entrepreneurship in the city. SODA was created to connect and energise companies that have the potential for exponential growth that will really contribute to growing and diversifying the New Zealand economy."
Out of SODA Inc, she co-founded Innes48 — a 48-hour high energy startup competition similar to Startup Weekend, with $15,000 in prize money up for grabs — the largest event of its kind in New Zealand.
The competition is named after Mary Jane Innes, the pioneering woman entrepreneur who started a soft drinks factory in 1900 that went on to become Oasis Industries.
Reynolds also successfully advocated for Mary Jane Innes to be inducted into the New Zealand Business Hall of Fame.
More recently she founded Momentum Waikato, a philanthropic foundation that pools donor funds and distributes grants strategically to social enterprises through the Vital Impact Programme.
Momentum Waikato also initiated and is leading the development of a new $73million game-changing creative precinct for Hamilton's downtown area.
A highly successful and seasoned creative entrepreneur, Reynolds has founded an incredible 11 ventures between the UK and New Zealand.
Throughout all of this, she has found time to exhibit her art internationally and curate international art exhibitions.
Reynolds left Momentum Waikato in December 2017, raring to go on startup venture number twelve, which will combine her twin loves of art and entrepreneurship.
Her aim is to build a new philanthropic foundation, 3Cs (Conscious Creative Content), as a creative social enterprise that generates smart capital and makes it easy and rewarding for people to contribute to building a better world.
Reynolds draws from her experience of starting up a philanthropic foundation, where she said she met many incredible people working hard at the coalface of complex societal and environmental problems.
Through this process, she learned about their urgent need to access more funding to bring about much-needed change, and also learned about how much the people who can afford to give love the sheer joy of giving, and really want to make a difference.
"Solving wicked problems to bring about positive systemic change involves backing brilliant people with truly game-changing ideas, with resources including smart capital."
With 15 years' experience in New Zealand's startup scene and 11 successful ventures under her belt, Reynolds brings a diverse skill set and wealth of knowledge to the EHF community, along with an optimistic can-do attitude.
Reynolds says she is truly humbled and honoured to become an Edmund Hillary Fellow, and the timing of the fellowship could not be more perfect for her as she begins the journey for her next venture.
She is looking forward to meeting all the other Fellows and the many EHF supporters, to work alongside them, listen, and learn from all their diverse experiences.
She's open to collaborating on new projects and is actively looking for potential co-founders and partners for 3Cs.
Reynolds doesn't hesitate to share her life's most important learnings:
Anything is possible
Be grateful every day for everything
Making happiness is far more valuable than making money
Just because you haven't done it before doesn't mean you can't do it
Face your fears, and fly
This article originally appeared here on the Edmund Hillary Fellowship's Medium page.
Related stories
Top stories