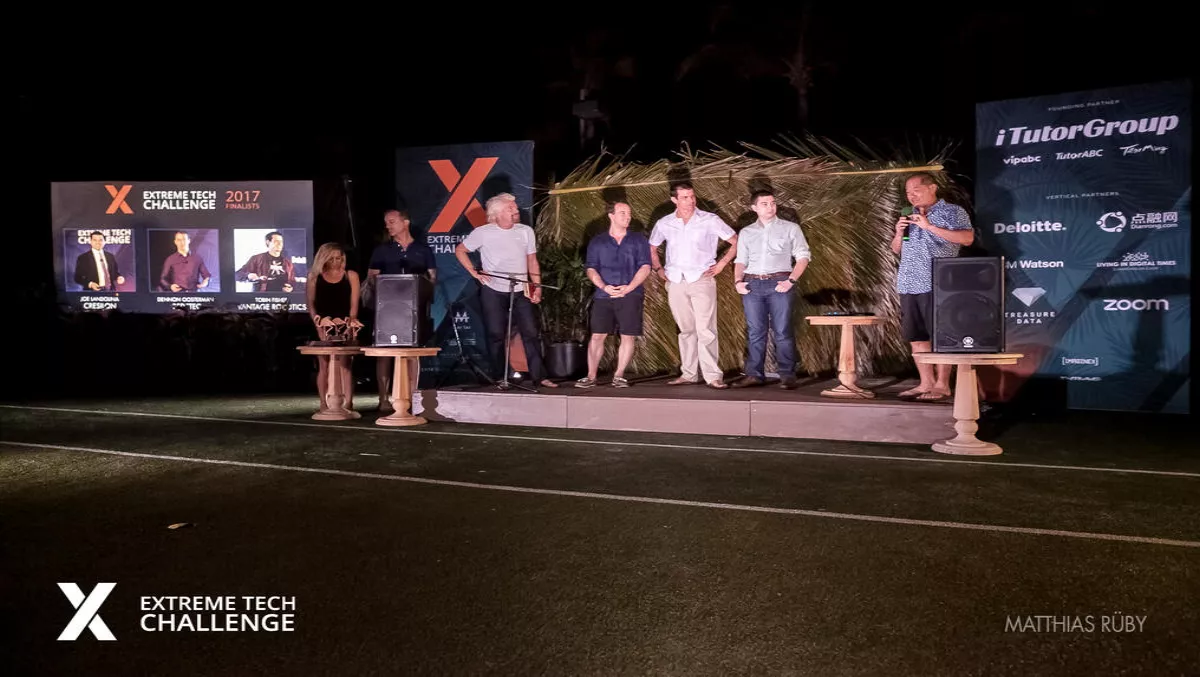 Top 25 finalists announced for Richard Branson's tech innovation competition
Tue, 17th Oct 2017
FYI, this story is more than a year old
Extreme Tech Challenge (XTC), the world's largest startup competition, is back again for its fourth annual year, unveiling The Top 25 contenders moving on to the next phase of the challenge, slated to take place this January at CES 2018.
The Top 25 was formally announced at CTA Innovate! and Celebrate at the Intercontinental Hotel in San Francisco.
XTC's selected Top 25 will be narrowed down to the Top 10 semi-finalists who will then pitch on stage at CES to compete for the ultimate prize of global visibility and resources, with three finalists to pitch their ventures to entrepreneur Richard Branson on Necker Island alongside the panel of judges.
Making waves overseas during last year's challenge, XTC is poised to welcome its largest pool of international contenders to date.
The 2018 Top 25 companies reach far beyond American borders, representing countries such as France, Norway, Australia, Germany, Rwanda, and Singapore.
The industries these companies represent are as diverse as their home base, with emphasis placed on verticals such as blockchain, sustainability, fintech, transportation and IoT.
Among international frontrunners to the finals in February 2018 are Norway's climate action tool chooose.today, touch-free gesture control interface creators BlueMint Labs' Bixi hailing from France, Powerledger - an Australian company creating a blockchain-based peer-to-peer energy trading platform, and Germany's sustainability stewards AIRY - a plant pot designed to ventilate root systems.
Stateside, the bank of competitors is stacked with brilliant minds from Silicon Valley to the east coast covering a wide range of cutting-edge trends that span the spectrum of tech industries from biotech and gaming to healthcare.
Companies such as Mountain View, CA's NextBiotics - a biotechnology platform engineering viruses, infant healthcare platform Owlet Baby Care Inc., and Florida's Immersed Games - an online game world for real STEM learning experiences, are all prospects who may have never crossed paths, yet now find themselves on a levelled playing field competing against one another.
Other noteworthy aspirants include Bluefield Technologies, who is utilising microsatellite sensors to analyse high-value methane emission data and Neurotrack, a company transforming the diagnosis and prevention of memory loss.
Past iterations of XTC have showcased the latest breakthroughs in sectors such as virtual reality, healthcare, genetics and transportation, and this year proves to be even stronger.
In an inspiring showcase of the evolving landscape of startup-driven discoveries, XTC serves as the platform where science and ingenuity collide to create a new paradigm of advancement in consumer, enterprise and medical tech.
XTC 2018 is proud to present the pioneering Judges' panels for the semi-finals and the final round:
Sir Richard Branson, founder of the Virgin Group, investor and philanthropist, returning XTC Finals Judge
Gary Shapiro, CEO Consumer Technology Association, returning XTC semi-finals judge
Koichi Narasaki, Chief Digital Officer, Sompo
Valery Vavilov, CEO, BitFury
Tom Siebel, veteran software entrepreneur and founder of C3 loT, returning XTC Finals Judge
XTC 2018 TIMELINE
Stage I - October 11, 2017 - Top 25 Announcement
Stage II - November 9, 2017 - Top 10 Announcement at CES Unveiled NYC: Two months ahead of CES 2018 10 Semi-Finalists will be selected from the Top 25 XTC challengers. In addition to unveiling the Semi-Finalists, the annual event showcases the future of tech before the new year.
Stage III - January 11, 2018 - XTC Semi-Finals at CES: Extreme Tech Challenge returns to CES Las Vegas for the semi-finals in 2018. This stage of the contest will see the chosen Top 10 pitch their tech live on-stage in hope of being one of three companies selected to move onto Necker Island.
Stage IV - February 28, 2018 - XTC Finals on Necker Island: Top 3 Finalists present to a panel of all-star judges, spearheaded by Branson.