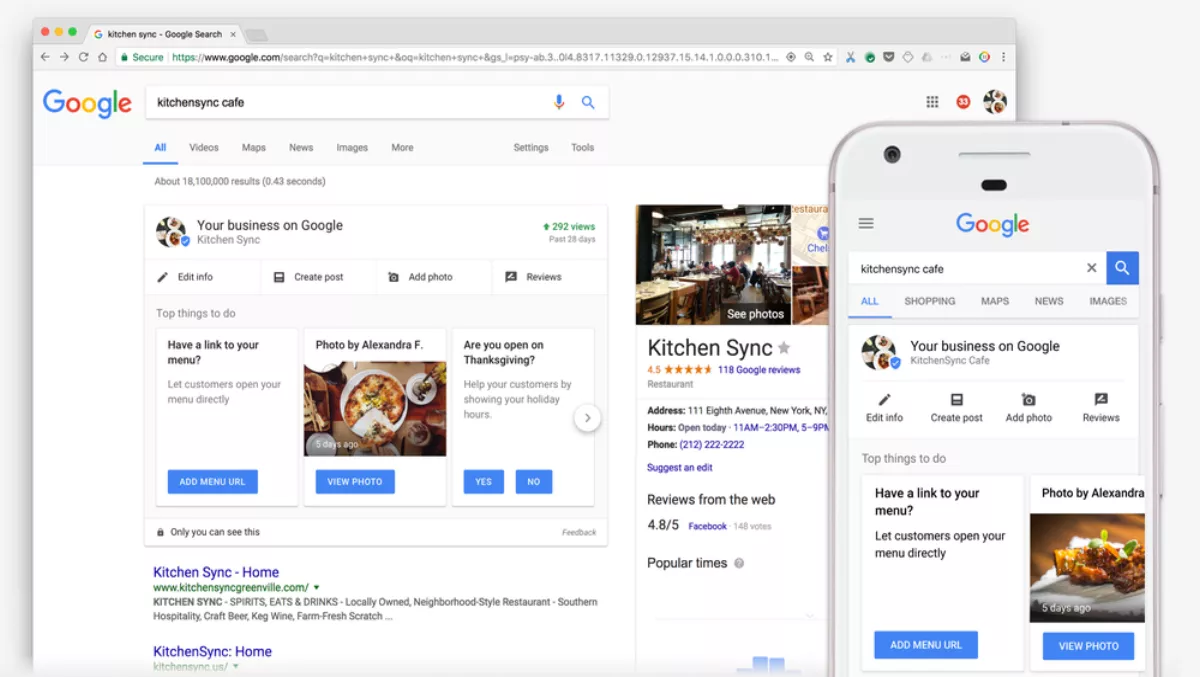 Update lets businesses manage their listing from Google Search page
Thu, 7th Sep 2017
FYI, this story is more than a year old
Businesses succeed and grow when they reach new customers online.
With more than 80% of people searching the web to find local information, it's important to have a high-quality presence that showcases what makes a business unique.
When people get to know a business, they are more likely to become customers.
Businesses with complete listings on Google are twice as likely to gain customer trust, 38% more likely to attract in-store visits, and 29% more likely to see a purchase.
Google has created a simple, easy-to-access business dashboard right in Google Search.
Just find your business on Google Search, and you can complete and enhance your listing, share photos and posts related to your business, and see how many views you're getting.
Now business owners can manage their online presence right from Google Search:
Add or correct business information, post updated hours, and more.
Post on Google and stay engaged with your customers.
Share photos that make your business stand out.
See how many views your listing gets, and easily access detailed information about your listing's performance.
Know when users upload photos of your business.
Quickly take the most important actions to complete and enhance your business listing.
How does it work?
1. Find your business on Google Search and you will see a new, simple menu right above the search results.
If you're not seeing the menu, make sure you're logged in with your business account.
2. Click the edit button, and the fields you can edit will be highlighted. You can update your information and upload photos directly.
The dashboard gives small business owners a quick and easy way to manage the information found on the popular search engine.
This is becoming increasingly important as customers are relying on Google more and more as a source of information about businesses around them instead of going to multiple different legacy apps and directories.