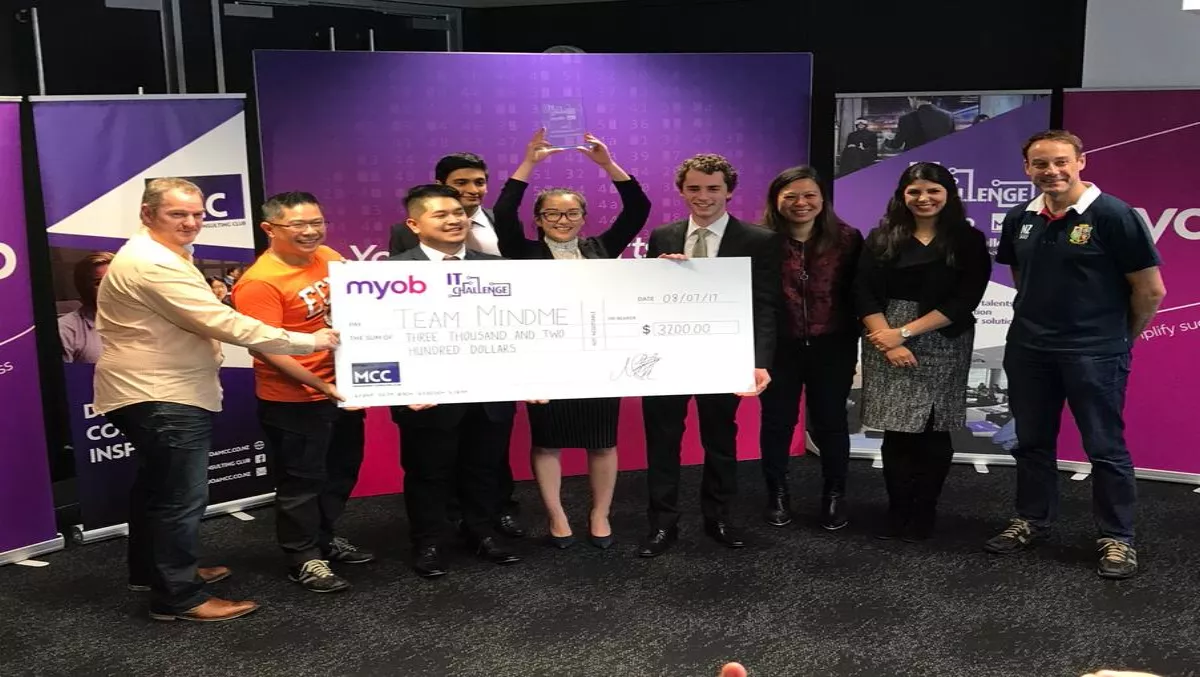 Wellington students win MYOB IT Challenge with virtual assistant app
FYI, this story is more than a year old
Four Victoria University students plan to make life easier for business owners with a digital assistant that helps with the day-to-day tasks of running their operations. The idea formed part of the winning entry for the national MYOB IT Challenge.
Victoria University's team comprised engineering and commerce students Liam Dennis, Nanda Hibatullah, Adiraj Gupta and Mona Ruan. Their idea is to develop an application that allows users of cloud-based accounting software to interact with a virtual assistant.
Through voice controls, users can ask questions while the application – Mind Me – provides a suggested course of action to deal with the business challenge.
For example, following up on a request for a quote can be seamlessly done by talking to a chatbot. This is Dennis and Gupta's second attempt at winning the award and both say it is valuable to think about how to turn IT ideas into workable business propositions - something they are looking to do with their winning solution. "What makes this competition stand out is that it seeks out technical yet tangible ideas," says Dennis. "It's interesting learning what people in the industry are looking for, and to take what we're studying and turn it into a real-life prospect." At the national competition in Auckland, regional winners from universities across the country presented business plans to a panel of expert judges from leading accounting software provider MYOB, women-in-tech group SheSharp, and international software service Augen. Carolyn Luey, MYOB New Zealand general manager says the challenge is helping students turn theory into practice. "Business is all about people working together to innovate and create great solutions for customers.
"The MYOB IT Challenge offers students the opportunity to experience exactly that – to collaborate in a team and create a solution to address a real business issue." The competition is run in conjunction with the University of Auckland's Management Consulting Club.
Mildred Wong, tertiary student and club member says it reveals students who understand the issues businesses face and can use today's technologies to create solutions. "It's essential we continue to encourage the fresh thinking of tomorrow," says Wong. "The MYOB IT Challenge encourages the kind of entrepreneurial mindset that will play a key role in shaping how Kiwis do business in the future." Luey says the criteria for the challenge was left open to allow the students to explore new concepts.
Any programming language and operating system could be used, and the final product could either standalone or integrate with an existing MYOB solution. "We were looking for creative ideas that demonstrated innovative and disruptive thinking." Each of the teams was judged on their business and marketing plans, prototype, design, and overall presentation, as well as a product that is intuitively easy to use and delivers real value to business owners.
Team Mind Me's solution exceeded all criteria. "The IT Challenge helps encourage the next generation of technology students in their studies and it's great to see teams from universities go head-to-head for a share of the prize pool and a leg up in the IT world.
"It bodes well for New Zealand's tech future," Luey says. MYOB is a significant employer of local developers in New Zealand and she says the business is always looking for ways to grow the talent pipeline through schools and universities. ''It's exciting seeing the next generation breaking out from existing trends and pushing boundaries.