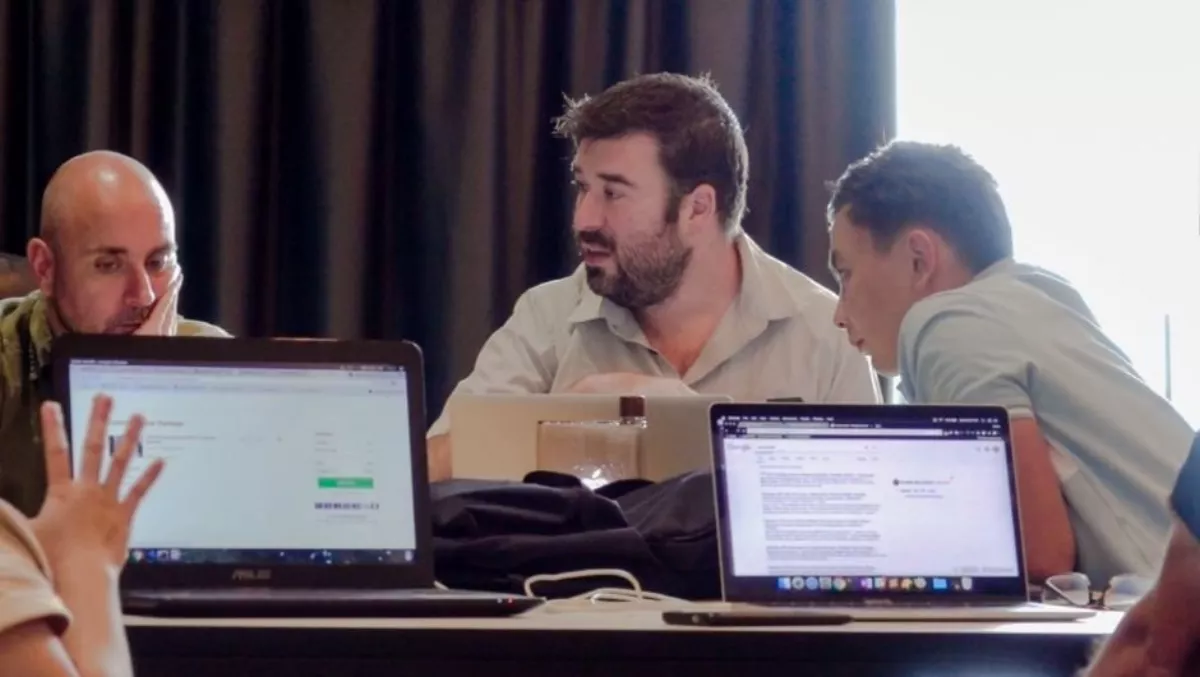 Why would a business owner want to learn coding?
Thu, 18th Oct 2018
FYI, this story is more than a year old
Why would a business owner want to learn coding? To "take charge of things", says businessman and entrepreneur Sean Mitchell.
"I wanted to take charge of my own destiny and create the sites myself," he says, referring to his purely digital media company.
He wanted to be able to make them exactly the way he wanted without having to depend on an external developer, or even hiring one internally.
Although he had absolutely no experience with coding, Mitchell took the time off from running his business to join NEXT Academy's Full Stack Coding Bootcamp.
A 10-week course, students who graduate from this programme come out being able to build web applications from scratch. Over the course of the 10 weeks, students learn a range of programming languages that will allow them to build a full-functional web application. More than that, they come out with the ability to find solutions to challenging tech problems.
Although Mitchell had attempted some online coding courses, he had not found much success with them.
"The problem was, that as a business owner, and with a busy schedule, I just didn't take time out of my life to put enough time and effort into those," Mitchell says.
He decided that if he was really going to learn how to code, he had to "really immerse" himself in the learning.
By the end of the bootcamp, Mitchell showed off a fully-functional web application that he created in less than two weeks!
"In my business, we actually employed two full-time web developers and for two full years on good money. Those developers created our current web sites," he says.
Comparing what he had built to what his business already had, he says that they had "nearly the same features".
"I'm really glad that I made the sort of big step to come here and do this course," he says.
Why choose Malaysia for a coding bootcamp
Mitchell's rationale for Malaysia as a learning destination was simple. "You're away from all the temptations!" he says.
"If we went to Thailand, there are parties and drinking and those sort of things. In Malaysia it's quieter.
"The food's great but it enabled me to focus on the learning and the coding and really that's what I wanted."
Although Malaysia might lack the party identity that other Southeast Asian countries are known for, it's not all work. There are lots of opportunities for overseas visitors as well.
"You know, maybe on the weekends you might want to put down your coding and do some of the adventures around here. There's plenty of things to do.
"I think my highlight has been the food," says Mitchell.
"Another nice thing about Malaysia is that, in comparison to Australia or New Zealand, it's really about a third of the cost of living.
"If you're a startup owner or a student, this is probably the most affordable boot camp that you could do in the world," he says.
Since there are students from all over the world, from so many different backgrounds, so it's also an opportunity to network and build contacts all over the world.
"Some people have come from a corporate background. Some people were business owners. Some people are students. So it's a sort of diverse bunch," says Mitchell.
What to expect from a coding bootcamp
It's no walk in the park!
"When you think about a boot camp, and actually if you think about coding generally, it's going to be difficult," says Mitchell.
"There are going to be patches where you just will feel terrible. You won't be able to solve a problem or you'll be stuck on the same problem for hours or days.
It's a challenge that even experienced developers face and Mitchell recognised that it was up to him to take his learning into his own hands.
"NEXT Academy will give you the help but it's up to you to grab that and take on your own projects," he says.
"In the end, they do exactly what they've promised. It's a coding camp, it's all up to you. You have to be the one who takes charge of your learning here.
"They will provide the experts, the people who can help you but in the end, you have to take their material, their advice, their lectures and their help and you have to turn that into your own project.
"It's really up to you. Every coding camp is going to come down to the individual, and to their attitude but NEXT has done everything they've promised to do," he says.
Head over to nextacademy.com to find out more about how to sign up for NEXT Academy's coding courses.