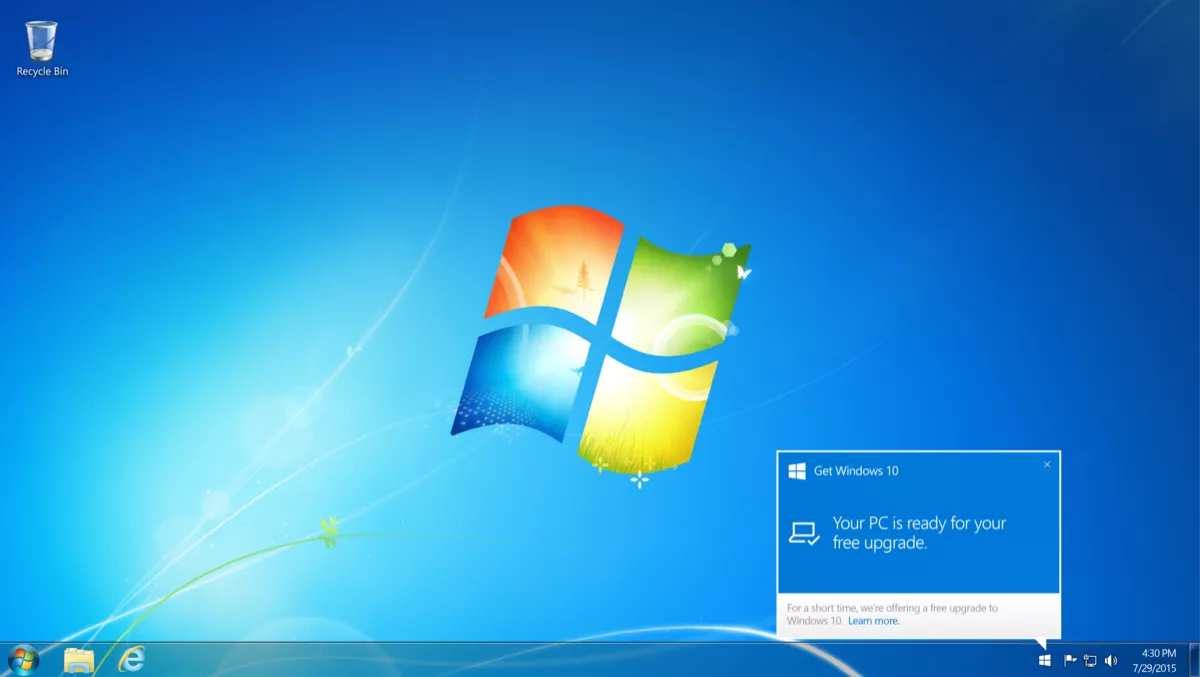 Windows 10 adopted by 91% of IT professionals, but plagued with concerns
FYI, this story is more than a year old
The majority of IT organisations (91%) have installed Windows 10, but there is still great variation in the current level of Windows 10 adoption.
Although a third of IT organisations (34%) have Windows 10 in production to some extent, only 10% are in full production while the majority (56%) are in the early stages, using Windows 10 in IT trial or other limited environments.
These are among the findings of the 2017 State of Windows 10 Adoption Survey conducted by Dimensional Research for Ivanti, a company integrating and automating IT tasks such as Windows desktop migrations.
Factors impacting adoption
87% have concerns about moving to Windows 10 including application compatibility (65%), the need for user training (43%), manual effort required to migrate (31%), the performance of applications (24%) and the increased complexity of image management (23%).
Adoption concerns have been validated by those who have begun their migration, but the actual impact appears less than their expectation.
Those that have begun their migration have faced issues including application compatibility (50%), support from application vendors (34%), users confused by the Windows 10 interface (29%), user resistance (21%), lack of hardware support (19%) and difficulty migrating user files and settings (18%).
Migration approaches abound
Even though organisations are grappling with multiple Windows 10 concerns, adoption is expected to accelerate.
77% expect to be fully migrated to Windows 10 within the next two years.
Interestingly, no single approach to Windows migration has become the standard.
The approaches being used for Windows 10 migration include reimaging (52%), hardware migration (49%), centrally managed in-place migration (44%) and user-initiated in-place migration (14%).
Windows 10 implementations are also being done virtually, with 25% delivering Windows 10 via virtual desktop infrastructure (VDI) and 9% using published desktops delivering the Windows 10 experience from Windows Server 2016.
Selection of the preferred Windows 10 branch is also a divisive factor in migration strategy.
More than half (51%) of IT organisations report that they haven't decided yet on whether they will use the Current Branch for Business (CBB) or Long-Term Service Branch (LTSB).
Of the remaining 49%, 29% have selected CBB and 20% have selected LTSB.
This branch selection indecision is impacting adoption, with a quarter (26%) of IT organisations reporting a delay in their Windows 10 adoption due to confusion over which branch to select.
Enhancing user experience and Windows 10 migration go hand-in-hand
To overcome user confusion and resistance to change, 83% of IT organisations plan to migrate their users' desktop personalisation during their Windows 10 migration.
Ensuring that these profile changes and customisation follow users as part of the migration process also enhances user productivity and satisfaction with the project.
The most common user personalisation info that IT organisations want to transition during their Windows 10 migration include user profile information (63%), printer assignments (49%), file server connections (43%), drive letters (42%), unmanaged or decentralised files and folders (32%) and regional settings (29%).
A substantial percentage of IT organizations (28%) even plan to migrate users' personal files, like photos and music.
Related stories
Top stories