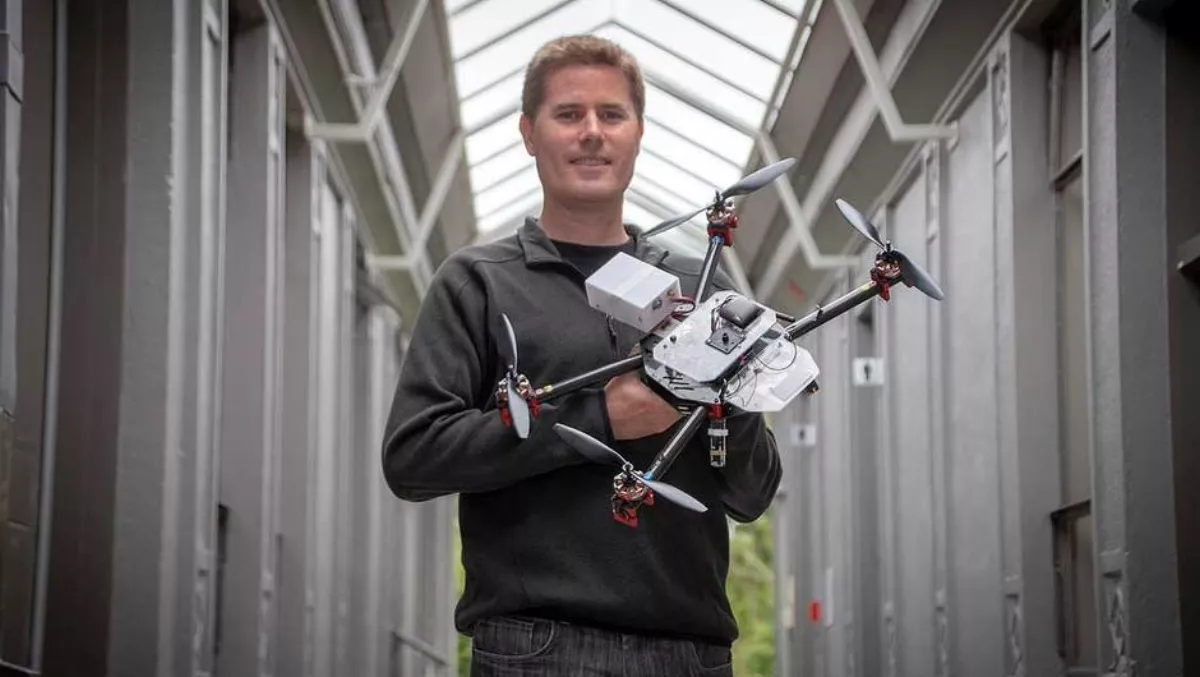 PhD student's wildlife-monitoring drone wins award
FYI, this story is more than a year old
A Massey University PhD student's drone technology for wildlife monitoring has won the Innovate 2018 competition – and that technology could go a long way in keeping an eye on some of New Zealand's most isolated species.
Chris Muller and 90 other hopefuls gathered at Innovate 2018 last month – a business competition where innovators pitch their ideas to potential investors. Think of it as a 'Shark Tank' format, hosted by RadioLIVE's Vaughn Davis.
Chris Muller's PhD research focuses on a remote population of yellow-eyed penguins in the Subantarctic Auckland Islands. The idea to use drones to monitor that population came from two major challenges: how to monitor them when they live in a remote location, and how to monitor them in a limited amount of time.
"You see a lot in the media about the threats facing yellow-eyed penguins in New Zealand, but those reports are mainly based on penguins from the mainland, and the remaining population of penguins on the Subantarctic islands needed to be studied further. The Department of Conservation (DOC) needed a Subantarctic census done, and I jumped at the chance to get back to this unique part of the world," Muller explains.
"The last census done on this population was in 1989. This is mainly due to the isolation of the islands and the extreme field conditions which cause a lot of difficulties in actually finding the penguins. These penguins are really shy which makes them hard to study.
"They aren't just sitting on the beach like other penguins, they actually go into the bush up to one kilometre from the sea and build individual nests out of sight of neighbouring penguins. The scrub is so thick it can take an hour to crawl 100 metres. The first year it took over two months to find 50 nests. We thought there had to be a faster way.
Muller partnered with the University of Canterbury's engineering department to attach new technology to a drone. He also gained permission from DOC to fly the drone in a world heritage area.
"Our new system is much better than just attaching conventional tracking technology to a drone and the team has done a really great job developing it. Although, normally drones and wildlife don't mix, but we did some trials first and got DOC's permission that it wasn't causing disturbance so we were ok to continue," Muller says.
If Muller's technology becomes common practice, it could dramatically reduce the time to find nests from six hours down to 11 minutes per nest.
He hopes the technology continues forward and helps other researchers.
"This technology would make locating a large number of animals easier and much quicker. We've had some really promising results and we've had dozens of other researchers from New Zealand, Australia and around the world keen to try it. Ideally it would be great to start getting it out there to help others.
Muller's win at the Innovate 2018 competition has helped him to gain entry into an accelerator programme, business mentors, office space at The Factory, and a cash prize from the Manawatu Investment Group.
"I guess there's the prizes and winning the competition, but that all comes second to the business advice and mentoring I've been getting as it's been really eye-opening and extremely valuable. As a researcher that's not really your forte, so having someone to guide you on that path is amazing," Muller concludes.