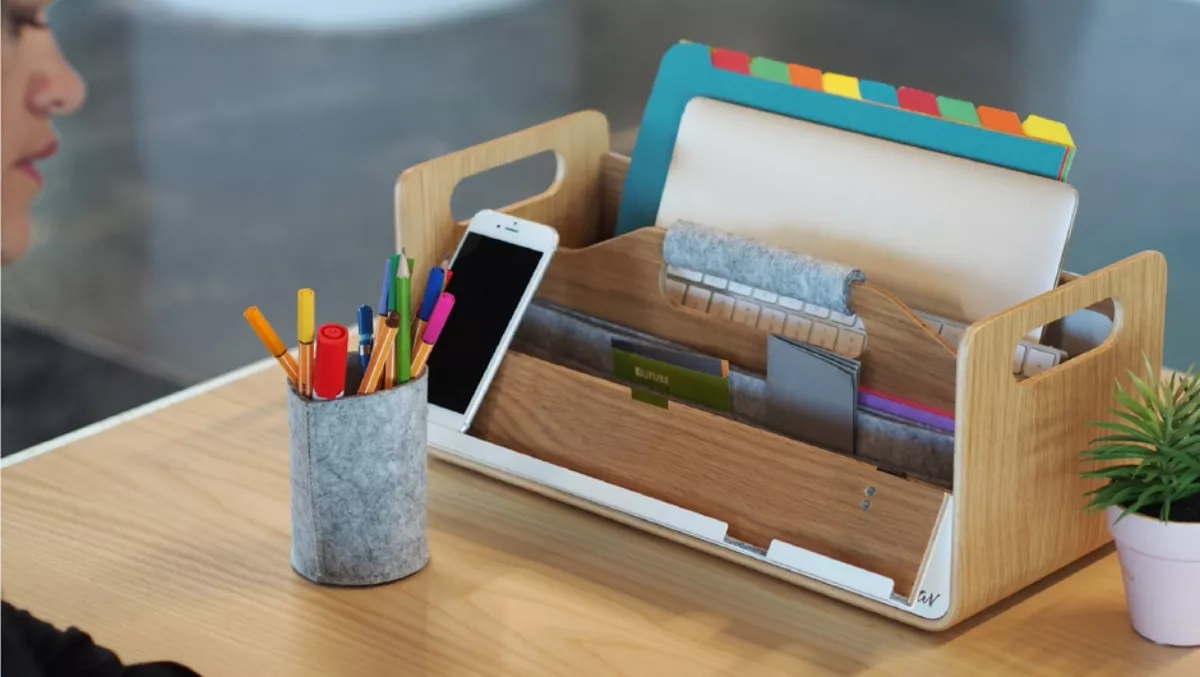 Portable workstation lets digital nomads customise their workspace
Tue, 5th Sep 2017
FYI, this story is more than a year old
With the exponential rise in hot-desking and shared office spaces, two New Zealanders are launching Gustav, the ultimate toolbox for people in flexible working environments.
"We're massive fans of co-working, hot-desking, and shared spaces," says Gustav co-founder and designer Christian Pistauer, an interior designer and workplace strategist by day.
"Flexible working spaces offer employers and employees more freedom, efficiency in the use of space, and they promote collaboration.
"But not having a fixed office space can have negative effects on people's' emotions and productivity, too.
Gustav is a portable toolbox which doubles as a laptop stand.
Pistauer says they aspired to create a product with personality and character when naming it.
"Gustav should be the user's best friend, someone to rely on; hence we decided to choose a real name.
It is light, beautifully-designed, and holds all the work essentials anyone needs, allowing them to set up their workspace in seconds.
The elegant design has been recognised as a finalist at the Best Design Awards this year.
Pistauer's co-founder, Judit Maireder, is the director of Auckland brand consultancy firm Y brand, which is based in a co-working space at The Grid in Wynyard Quarter.
"I've seen it first hand: one of the major downsides of agile working is the effect a lack of a fixed space can have on some people's emotions.
"Agile working can be fragile working if people don't feel like they can own a workspace which is unique to their needs. That's why we invented Gustav.
Gustav allows workers to carry their workspace with them wherever they go or store it in a locker or shelf in their shared office space.
"Whether you want to work from a cafe table, a standing hot desk, or a bean bag; Gustav goes wherever you do and turns anywhere into your personal workspace in seconds," Maireder says.
Pistauer and Maireder have launched Gustav for worldwide sale at GustavConcept.com today, with an initial focus on driving bulk sales to businesses and shared spaces.
They will soon open individual unit sales to the public.
"With the proliferation of shared spaces and hot-desking in New Zealand and around the world, we see Gustav as a fantastic tool employers and coworking space managers can offer their clients or employees," Pistauer says.
Price ranges between $215 and 299 depending on quantity ordered, add-ons and lead-time.
Check out the video here